Pengaruh Budaya Kerja terhadap Semangat dan Kegairahan Kerja Karyawan Kantor Pusat PT. Bank Lampung
Abstract
Bank Lampung is a Bank owned by the Lampung Regional Government in the form of a Regional Company. The problems encountered are the influence of work culture on the enthusiasm and enthusiasm of employees at the Head Office of PT. Lampung Bank. The method used is library research and field research. The purpose of this study was to determine how the influence of work culture on the enthusiasm and enthusiasm of the employees of the Head Office of PT. Lampung Bank. The results showed that there was a positive influence between work culture on employee morale and enthusiasm for work of 0.9082. To test the effect, the t-test was used where the coefficient of tcount was compared with ttable, which turned out to be tcount > ttable. Based on the Coefficient of Determination formula, the magnitude of the influence of work culture on employee morale and enthusiasm is 90.82%. Thus, the hypothesis proposed that there is a positive influence between work culture on the enthusiasm and enthusiasm of the employees of the Head Office of PT. Bank Lampung accepted. Keyword : culture, work, passion, employees
Downloads
Download data is not yet available.
References
Alex S.Nitisemito, 2002. Manajemen Sumber Daya Manusia. Penerbit Ghalia Indonesia, Jakarta.
Arikunto, Suharsimi. 2002. Prosedur Penelitian. Penerbit Rineka Cipta Jakarta
Amir, A. (2021). Pengaruh Pemberian Insentif terhadap Motivasi Kerja Pegawai pada Kantor Lembaga Penjaminan Mutu Pendidikan (LPMP) Bandar Lampung. Business Perspective Journal, 1(1), 11-30.
Bawelle, M., & Sepang, J. (2016). Pengaruh etos kerja, gairah kerja dan disiplin kerja terhadap kinerja karyawan PT. BRI cabang Tahuna. Jurnal EMBA: Jurnal Riset Ekonomi, Manajemen, Bisnis dan Akuntansi, 4(3).
Faizal, R., Sulaeman, M., & Yulizar, I. (2019). Pengaruh Budaya, Motivasi Kerja Dan Kompetensi Terhadap Kinerja Karyawan. Jurnal eBA, 5(1).
Siregar, A. R., Marbun, P., & Syaputri, Y. (2020). Pengaruh Budaya Kerja Dan Jam Kerja Terhadap Kinerja Karyawan Pada Pt. Latexindo Toba Perkasa Binjai. Jurnal Ilmiah Manajemen Dan Bisnis (Jimbi), 1(1), 101-110.
Hofstede, G. 2004. Cultures and Organizations, Intercultural Cooperation and Its Importance for Survival. London : Harper Collins Publisher.
J. Supranto, MA, 2003. Statistik Teori dan Aplikasi-jilid 2. Penerbit Erlangga, Jakarta
Kotter, John. P., and Jarnes L. Haskett. 2002. Corporate Culture and Performance. New York : The Free Press A Division Simon & Schuster.
Payaman IS. 2005. Pengantar Ekonomi Sumber Daya Manusia. LPFE UI, Jakarta.
Pramazuly, A. N., Mosshananza, H., & Rosidah, R. (2021). ANALISIS BUDAYA "PIIL PESENGGIRI" DALAM PENINGKATAN BUDAYA KERJA APARATUR DI BALAI DESA SABAH BALAU KABUPATEN LAMPUNG SELATAN. Jurnal Progress Administrasi Publik (JPAP), 1(2), 61-67.
Susanty, M. (2019). Pengaruh Sumber Daya Manusia terhadap Kinerja Pegawai pada Dinas Pendidikan Kabupaten Lampung Barat. Business Perspective Journal, 3(1), 10-21.
Susanto. A.B. 2001 . Budaya Perusahaan (Manajemen dan Persaingan Bisnis). Penerbit PT. Elex Media Komputindo, Jakarta
Umar, Husein, 2001. Riset Sumber Daya Manusia Dalam Organisasi. Penerbit PT. Gramedia Pustaka Utama. Jakarta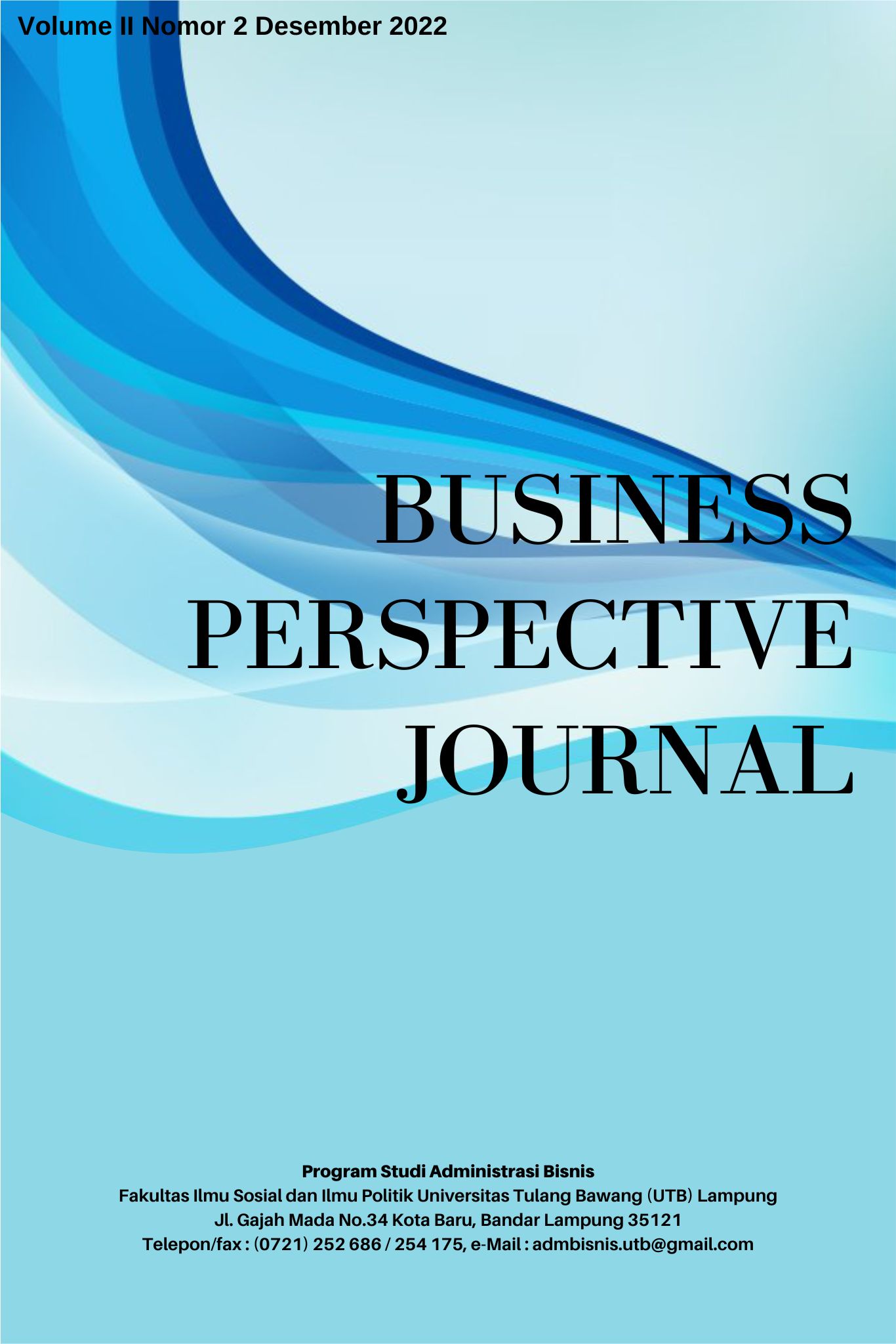 Downloads
Section
List of Articles in This Issue
License
Copyright (c) 2022 Business Perspective Journal
This work is licensed under a Creative Commons Attribution 4.0 International License.