Perbandingan Peramalan Permintaan Produk Hollow Alumunium Menggunakan Metode Single Moving Average Dan Exponential Smoothing Pada PT. MU
Abstract
Demand forecasting is an attempt to predict demand for a product or prepare stock for a certain time. PT MU is an aluminum distribution company that sells products in the form of white powder coating white aleksindo, sells hikarindo aluminum window materials, curved aluminum frame materials, aluminum door frame materials wood veins and also as a center for making aluminum door frames. The demand for Hollow Aluminum at PT MU from month to month during 2022 has increased and also decreased. Therefore the company conducts demand forecasting. The method used in forecasting Hollow Aluminum demand is to compare the single moving average and exponential smoothing methods to find out the most effective method. Based on the results of data processing and discussion, it is obtained that the most effective method in forecasting Hollow Aluminum products is the 3-month single moving average method because it obtains the lowest mean squared error (MSE) value of 392.67.
Keywords: Exponential Smoothing, Forecasting and sales, Single Moving Average
References
Apriliani, A., Zainuddin, H., Agussalim, A., & Hasanuddin, Z. (2020). Peramalan Tren Penjualan Menu Restoran Menggunakan Metode Single Moving Average. Jurnal Teknologi Informasi Dan Ilmu Komputer, 7(6), 1161. https://doi.org/10.25126/jtiik.2020722732
Astuti, Y., Novianti, B., Hidayat, T., & Maulina, D. (2019). Penerapan Metode Single Moving Average Untuk Peramalan Penjuaan Mainan Anak. Seminar Nasional Sistem Informasi Dan Teknik Informatika Sensitif, 4(July), 255.
Dwi Suseno, Y., & Purwanto, E. (2023). Bianglala Informatika : Jurnal Komputer dan Informatika Sistem Informasi Prediksi Stok Sparepart Motor Menggunakkan Metode Single Moving Average. 11(1), 19–23.
Fastio, A., Setiawan, H., Sanjaya, A., Cahyo, W., Broiler, D. A., & Average, S. M. (2023). Prediksi Kebutuhan Daging Ayam Broiler Menggunakan Metode Single Moving Average. 7, 184–190.
Hay's, R. naufal, . A., & Adrean, R. (2017). Sistem Informasi Inventory Berdasarkan Prediksi Data Penjualan Barang Menggunakan Metode Single Moving Average Pada CV.Agung Youanda. ProTekInfo(Pengembangan Riset Dan Observasi Teknik Informatika), 4, 29–33. https://doi.org/10.30656/protekinfo.v4i0.409
Hudaningsih, N., Firda Utami, S., & Abdul Jabbar, W. A. (2020). Perbandingan Peramalan Penjualan Produk Aknil Pt.Sunthi Sepurimengguanakan Metode Single Moving Average Dan Single Exponential Smooting. Jurnal Informatika, Teknologi Dan Sains, 2(1), 15–22. https://doi.org/10.51401/jinteks.v2i1.554
Lubis, M. H., & Sumijan, S. (2021). Prediksi Tingkat Kriminalitas Menggunakan Metode Single Moving Average (Studi Kasus Polres Asahan Sumatera Utara). Jurnal Sistim Informasi Dan Teknologi, 3, 183–188. https://doi.org/10.37034/jsisfotek.v3i4.63
Santoso, A. B., Rumetna, M. S., & Isnaningtyas, K. (2021). Penerapan Metode Single Exponential Smoothing Untuk Analisa Peramalan Penjualan. Jurnal Media Informatika Budidarma, 5(2), 756. https://doi.org/10.30865/mib.v5i2.2951
Suryani, F., Moulita, R. A. N., & Aprilyanti, S. (2023). Analisis Peramalan Pemasangan Internet dengan Menggunakan Metode Single Moving Average dan Exponential Smoothing Analysis of Internet Installation Forecasting using Single Moving Average and Exponential Smoothing Methods. 01, 1–5.
Susanti, N., & Sahli, M. (2013). Penerapan Metode Exponential Smoothing Dalam Sistem Informasi Pengendalian Persediaan Bahan Baku (Studi Kasus Toko Tirta Harum). Simetris : Jurnal Teknik Mesin, Elektro Dan Ilmu Komputer, 3(1), 59. https://doi.org/10.24176/simet.v3i1.89
Vindari, Z. I., Wahyudin, W., Azzahra, A. G., Khan, S. P., & Ayuningtyas, S. M. (2023). Analisis Peramalan Permintaan pada Part Arm Rear Brake KWBF di PT Ciptaunggul Karya Abadi. Jurnal Serambi Engineering, VIII(1), 4284–4293.
Wijaya, A. R. (2023). Model Prediksi Data Harga Minyak Mentah Dunia Dengan Metode Exponential Smoothing. Buletin Ilmiah Math. Stat. Dan Terapannya (Bimaster), 12(1), 21–28.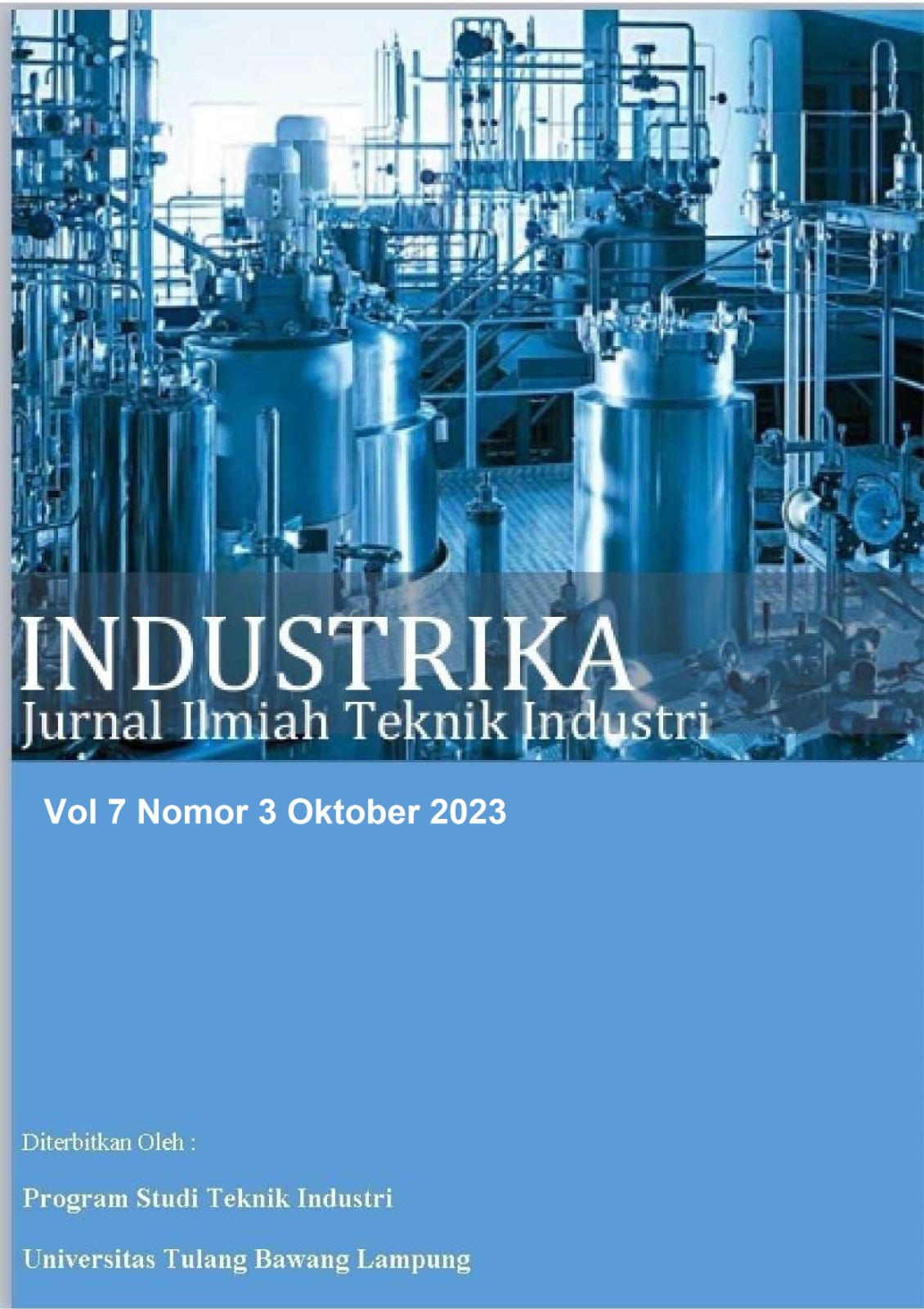 Downloads
How to Cite
Septiansyah, R., & Wahyudin, W. (2023). Perbandingan Peramalan Permintaan Produk Hollow Alumunium Menggunakan Metode Single Moving Average Dan Exponential Smoothing Pada PT. MU. Industrika : Jurnal Ilmiah Teknik Industri, 7(3), 257–268. https://doi.org/10.37090/indstrk.v7i3.1073
License
This work is licensed under a Creative Commons Attribution-ShareAlike 4.0 International License.