Modifikasi Hammer Mill Sample Divider Untuk Penyederhanaan Fungsi Dengan Desain Ulang Pada PT. BV
Abstract
This study was conducted at PT. BV whose activities are in the coal mining sector, where there is a sample preparation process which aims to minimize the presence of impurities that will interfere with the coal analysis process. In the process there are two important tools used, namely the Hammer Mill and the Rotary Sample Divider. If we look at the use of these two separate tools, they are not efficient in terms of time, space and human resources, as a result the sample results are not optimal. So it is necessary to redesign the Hammer Mill machine and the Rotary Sample Divider machine by combining the two machines in one design, so that their function is simpler and more efficient, and also produces homogeneity in the coal samples to be analyzed. It is hoped that by combining the 2 tools used into one, we can overcome the lack of efficiency in sample preparation and get maximum results. The analysis used to identify problems uses a fishbone diagram to support identification, exploration, and depicts in detail all the causes related to this problem. The result of the redesign is a modified Hammer Mill Sample Divider that is more efficient and produces homogeneous coal samples to be analyzed. Apart from that, testing data on the sample preparation process using a modified Hammer Mill Sample Divider machine showed that the total testing time for 10 samples was obtained with an average time of 12.55 minutes, a maximum time limit of 14.02 minutes and a minimum time of 10.8 minutes and with the re-design of the Hammer Mill Sample Divider can minimize costs, use of human resources and time..
Keywords: Coal, Efficient, Hammer mill, Re-desain, Rotary sample divider, Sample preparation
References
De Jesus, A., Sukarnen, S., & Rachim, A.
M. (2019, August). Re–desain wisata pemandian AIR PANAS Marobo di Bobonaro, Timor Leste. In Prosiding Seminar Teknologi
Perencanaan, Perancangan, Lingkungan dan Infrastruktur (Vol. 1, No. 1, pp. 308-316).
Firmansyah, F. (2022). Identifikasi
Permasalahan Dengan Diagram Fishbone pada Proses CNC Bending Di PT. Manufacture Dynamic Indonesai (Kegagalan Proses Produksi Pembuatan Mesin Sangrai Kopi).
Hakim, L., Japri, & Ridwan, A.
(2020). Perancangan Mesin Penghalus Tempurung Biji Buah Kelapa Sawit(Endocarp Crusher Hammer Mill) Untuk Komposisi Bahan Bakar Alternatif. Jurnal Surya Teknika, 6(1), 55–63. https://doi.org/10.37859/jst.v6i1.186
Hermawan, R. (2020). Pemilihan
Metode Crusher Pada Perancangan Mesin Pembuat Gula Semut. Industrial and Mechanical Design Conference, 2, 259–265.
Handayani, E. (2017). Efisiensi
Penggunaan Alat Berat Pada Pekerjaan Pembangunan TPA (Tempat Pemprosesan Akhir) Desa AMD Kec. Muara Bulian Kab. Batanghari. Jurnal Ilmiah Universitas Batanghari Jambi, 15(3), 90-95.
Kurniawan, S., & Kusnayat, A. (2017).
Perancangan Hammer Pada Mesin Hammer Mill Menggunakan Metoda Discrete Element Modelling Untuk Meningkatkan Kehalusan Penggilingan Kulit Kopi. Jurnal Rekayasa Sistem & Industri (JRSI), 3(04), 21. https://doi.org/10.25124/jrsi.v3i04.223
Narenda Putra, I., & Kusnayat, A. (2022).
Perancangan Penjepit Pada Outer Hammer Mill Machine Menggunakan Metode Reverse Engineering Design Of Clamp On Cyclone Hammer Mill Machine Using Reverse Engineering Method. 9(3), 1512–1526.
Wendha, D. N., & Alteza, M. (2020).
Analisis Efisiensi Perbankan Hasil Merger di Indonesia dengan Metode Two-Stage Data Envelopment Analysis. Jurnal Ilmu Manajemen, 17(2), 85–97. https://journal.uny.ac.id/index.php/jim/article/view/34778
Yusuf, R. D. H., & Mutalib, W. H. A.
(2021). Redesain Pembangunan Gedung Perpustakaan Pusat Universitas Muhammadiyah Maluku Utara. DINTEK, 14(1), 72-78.
Zakhvatayeva, A., Hare, C., & Wu, C. Y.
(2019). Size-induced segregation during die filling. International Journal of Pharmaceutics: X, 1(August). https://doi.org/10.1016/j.ijpx.2019.100032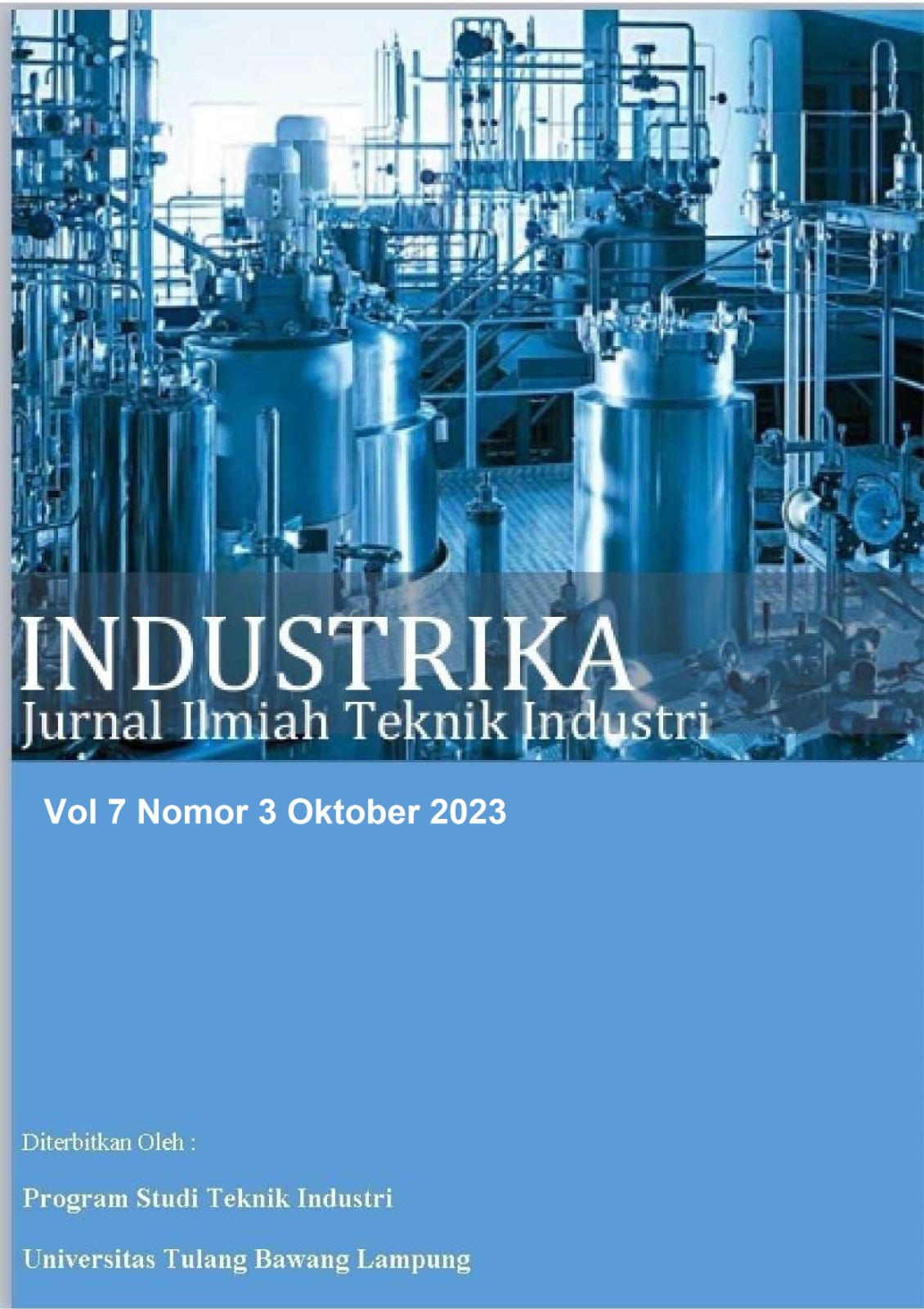 Downloads
How to Cite
Gonsalves, B. V., Nudin, B., Suwarni, P. E., & Sundari, S. (2023). Modifikasi Hammer Mill Sample Divider Untuk Penyederhanaan Fungsi Dengan Desain Ulang Pada PT. BV. Industrika : Jurnal Ilmiah Teknik Industri, 7(3), 309–317. https://doi.org/10.37090/indstrk.v7i3.1116
License
This work is licensed under a Creative Commons Attribution-ShareAlike 4.0 International License.