Penerapan Traceability System Pada Industri Otomotif Berbasis Industri 4.0
Abstract
The automotive industry is one of the industrial sectors that can support income for countries in the world. In developments in the industry, every product produced is inseparable from end user/customer complaints due to defective components that pass the Quality Control Final Inspection check so that the product is sent to the customer. This must be anticipated because it greatly influences the level of customer satisfaction and will affect sales. Technological developments that are a challenge for the industry include the ability to present information relating to the history and movement of an item or object through each stage of the production and distribution process. This system requires supply chain actors to know who supplies the automotive industry and to whom the finished product is sent, so that each actor has access to information both upstream and downstream. The data and information needed in this research are research variables, dimensions and indicators, research variables and dimensions are taken from theoretical concepts, all operational indicators are used as guidelines that are in accordance with the concept. Through the implementation of the Traceability System, it will be easier to find the root cause and the ability to trace the process where the problematic material was produced, so that we can respond quickly and accurately to market claims from customers because each process has been integrated with the Barcode system. The supporting systems and devices are needed for a smooth traceability process. Through the implementation of the Traceability System, it is hoped that similar complaints from End Users/Customers will not occur again afterwards so that it will further increase customer trust which will have an impact on increasing orders which will directly increase company profits.
Keywords: Automotive, barcode system, traceability system, market claims, customer
References
Afrizal, A. (2021). Keunggulan Komparatif Ekspor Indonesia. JEM Jurnal Ekonomi dan Manajemen, 7(1), 29-46.
Afifah, N. (2020). Penerapan Sistem Traceability di PT Aerofood ACS Garuda Indonesia Group Jakarta.
Banurea, S. (2020). PENGGUNAAN SCSS (SUZUKI COSTUMER SATISFACTION SURVEY) UNTUK MENGUKUR TINGKAT KEPUASAN PELANGGAN DALAM MENINGKATKAN PENJUALAN SUZUKI MOBIL. MADANI ACCOUNTING AND MANAGEMENT JOURNAL, 6(1), 1-24.
Eryilmaz, U., Dijkman, R., van Jaarsveld, W., van Dis, W., & Alizadeh, K. (2020, July). Traceability blockchain prototype for regulated manufacturing industries. In Proceedings of the 2nd
Ginantaka, A., & Zain, E. R. (2017). Perancangan sistem informasi traceability produk pangan halal UKM unggulan berbasis digital business ecosystem. Jurnal Agroindustri Halal, 3(2), 170-182.
Herdianto, E. F. (2016). Implementasi AEC dalam peningkatan jaringan produksi regional Asean: Studi kasus industri otomotif. Dauliyah: Journal of Islam
Hadi, M. Z. (2019). Peluang implementasi teknologi big data dan block chain untuk peningkatan kinerja perdagangan pada sektor UMKM di Indonesia pada era industri 4.0. Cendekia Niaga, 3(1), 71-80.
Khasanah, I. D., & Surianto, M. A. (2021). Kinerja Customer Relationship Management Pada PT. Panahmas Dwitama Distrindo Jember. Jurnal Indonesia Sosial Sains, 2(12), 2069-2080.
Nugraheni, D. P., & Dwiyanto, B. M. (2015). Pengaruh Citra Merek, Persepsi Harga, Dan Atribut Produk Terhadap Keputusan Pembelian Mobil Toyota Avanza Dengan Minat Beli Sebagai Variabel Intervening (Studi pada PT Nasmoco Majapahit Semarang) (Doctoral dissertation, Fakultas Ekonomika dan Bisnis).
Reuter, C., Brambring, F., & Hempel, T. (2016). Increasing the traceability through targeted data acquisition for given product process combinations. Procedia CIRP, 52, 210-215.
Rizaty, Monavia Ayu (2022). 10 Produsen Kendaraan Bermotor Terbesar di Asia 2021, RI Masuk Daftar. Databoks.katadata.co.id. Diakses 5 September 2023 dari https://databoks.katadata.co.id/datapublish/2022/06/22/10-produsen-kendaraan-bermotor-terbesar-di-asia-2021-ri-masuk-daftar
Sulistiyowati, W. (2018). Buku Ajar Kualitas Layanan: Teori dan Aplikasinya. Umsida Press, 1-182.
Wahyuni, D., & Arfidhila, N. (2019, December). Traceability pada Rantai Pasok Pangan Halal: Review Literatur. In Talenta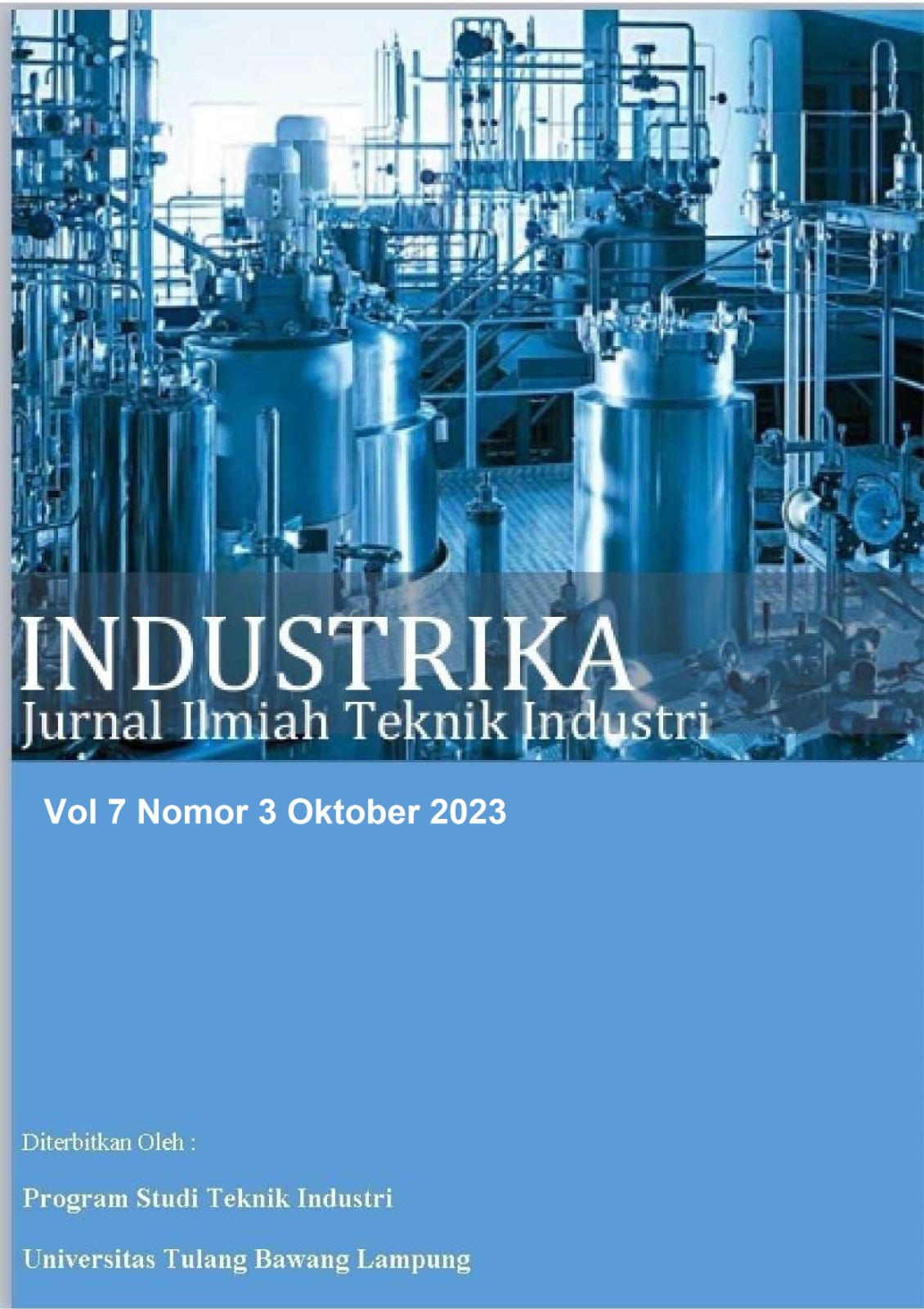 Downloads
How to Cite
Nashiruddin, M., & Purba, H. H. . (2023). Penerapan Traceability System Pada Industri Otomotif Berbasis Industri 4.0. Industrika : Jurnal Ilmiah Teknik Industri, 7(3), 318–326. https://doi.org/10.37090/indstrk.v7i3.1158
License
This work is licensed under a Creative Commons Attribution-ShareAlike 4.0 International License.