ANALISIS WAKTU KERJA DAN KEBUTUHAN JUMLAH OPERATOR UNTUK MEMENUHI TARGET PRODUKSI DI PT. XYZ
Abstract
PT. XYZ is a company engaged in manufacturing metal or iron plate processing. The problem being faced is that the company does not plan for the right number of operators. This causes the production target is not met because it has limited human resources. In the working time analysis, the standard time results are 108,33 seconds or 1,8 minutes each unit. Based on the Work Load Analysis (WLA), the average workload at each work station is 90%. However, there are several work stations that have excessive workloads such as leg cutting work stations by 209%, blanking legs by 135%, ovens by 137%. The proposal given is to provide additional workloads on work stations that have a moderate workload. The cost of materials needed for the manufacture of stove stoves is 60.000 units each month, with a total cost of Rp1.021.236. Then for the regular cost of Rp1.920.000 each worker. The initial overtime fee uses 3 hours of overtime, which is Rp16.114.682. Keywords: Cost, Number of Operators, Work Load Analysis, Standard Time
References
Amri, D., & Irwansyah, Y. (2018). Analisis Kebutuhan Jumlah Tenaga Kerja Berdasarkan Metode Work Load Analysis Dan Work Force Analysis. Industrial Engineering Journal, 7(1), 50–56.
Bambang, & Kartasapoetra, G. (1988). Kalkulasi dan Pengendalian Biaya Produksi. PT. Bina Aksara.
Budiasa, I. K. (2021). Beban Kerja dan Kinerja Sumber Daya Manusia. CV. Pena Persada.
Darsini, Maulana, A., & Wibowo, B. (2021). JOURNAL OF APPLIED MECHANICAL ENGINEERING AND RENEWABLE ENERGY (JAMERE) Analisis Jumlah Tenaga Kerja Optimal Dengan Metode Work Load Analysis (WLA) di PT. RSI. https://journal.isas.or.id/index.php/JAMERE
Ekapramesti, S., & Murnawan, H. (2021). PERANCANGAN FASILITAS PRODUKSI GUNA MENGOPTIMALKAN OUTPUT PRODUKSI PADA ALAT PERTANIAN (Studi Kasus : CV. Trikarya Cakra Perkasa).
Gitosudarmo, I. (2007). Manajemen Operasi. BPFE.
Hariandja, M. T. E. (2002). Manajemen Sumber Daya Manusia. Grasindo.
Nasution, A. H. (2006). Manajemen Industri. ANDI.
Purnomo, H. (2004). Pengantar Teknik Industri. Graha Ilmu.
Santoso, & M. Heryanto, R. (2017). Perencanaan dan Pengendalian Produksi 1. CV ALFABETA.
Taufan, M. (n.d.). PENENTUAN JUMLAH TENAGA KERJA YANG OPTIMAL DENGAN METODE WORK SAMPLING DI IKM GRIYA MANK GUDO JOMBANG.
Wignjosoebroto, S. (2003). Pengantar Teknik & Manajemen Industri. Prima Printing.
Wignjosoebroto, S. (2006). Ergonomi Studi Gerak dan Waktu. Guna Widya.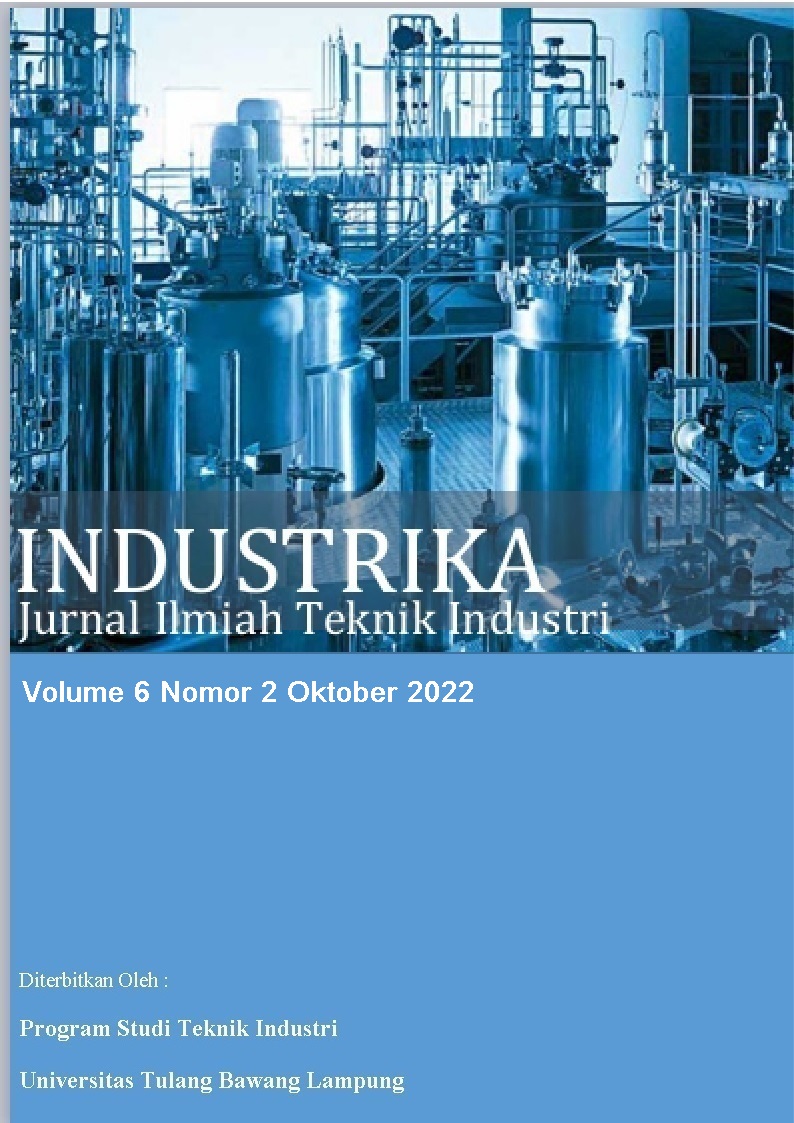 Downloads
How to Cite
Himmah, A. F., & Sajiyo, S. (2022). ANALISIS WAKTU KERJA DAN KEBUTUHAN JUMLAH OPERATOR UNTUK MEMENUHI TARGET PRODUKSI DI PT. XYZ. Industrika : Jurnal Ilmiah Teknik Industri, 6(2), 43-52. https://doi.org/10.37090/indstrk.v6i2.610
License
This work is licensed under a Creative Commons Attribution-ShareAlike 4.0 International License.