TATA LETAK GUDANG AIR MINUM KEMASAN PT. Z DALAM USULAN PERBAIKAN MENGGUNAKAN METODE DEDICATED STORAGE
Abstract
PT. Z is a company that produces drinking water in 240 ml cups, 330 ml bottles, 600 ml bottles, 1500 ml bottles, and 19 liter gallons. The warehouse owned serves to store the products produced before being distributed to customers.The problems faced by PT. Z is a long product pick-up time because the product placement is done randomly without any display of the product type name in the warehouse and the irregular distance of product placement that has high demand to the warehouse exit and there is no line in every area of the goods storage road which makes it difficult for operators to mobilize. The purpose of this research is to redesign the warehouse to be more efficient so that it can reduce the time and distance of product transfer with the Dedicated Storage method, and provide suggestions for improving the warehouse layout while maintaining the existing warehouse area so that activities run effectively and efficiently and the use of the space requirement becomes more optimal. The results of this study can minimize the displacement distance at the Input/Output (I/O) point where before repairing the product search time for 1 month it takes 235,837 seconds (65.5 hours/month) however, with the proposed product warehouse layout, it is now 175,120 seconds (48 hours/month).
References
Apple, James M, 1990, Tata Letak Pabrik
dan Pemindahan Bahan. Edisi Ketiga Bandung: ITB.
Aliudin, T. M. A., Ilhami, M. A., &
Febianti, E. (2015). Usulan Perbaikan Tata Letak Gudang Produk Drum Oli Menggunakan Metode Dedicated Storage Di PT XYZ. Jurnal Teknik Industri Untirta, 3(1).
Efrataditama, A. V., & Wigati, S. S.
(2016). Perancangan Tata Letak Gudang Dengan Metode Dedicated Storage di Toko Listrik Anugrah Jaya. In Seminar Nasional IENACO (pp. 276-284).
Heizer, J., & Render, B. (2008).
Operations Management, Edisi Ketujuh. Jakarta: Salemba Empat.
Hadiguna, R. A. (2008). Setiawan.
H,"Tata Letak Pabrik", Penerbit Andi Offset, Yogyakarta.
Husin, S. (2020). PERBAIKAN TATA
LETAK GUDANG PRODUK JADI DENGAN METODE DEDICATED STORAGE DIGUDANG PT. YYZ. JISO: Journal of Industrial and Systems Optimization, 3(1), 8-15.
Kemala, W., & Karo, G. K. (2017).
Usulan Perencanaan Tata Letak Gudang Produk Jadi dengan Menggunakan Metode Muther's Systematic Layout Planning dan Dedicated Storage. JIEMS (Journal of Industrial Engineering and Management Systems), 4(2).
Kurnia, Z. K. (2020). PERANCANGAN
KEBUTUHAN LUAS GUDANG DAN PERBAIKAN TATA LETAK LANTAI PRODUKSI MENGGUNAKAN METODE DEDICATED STORAGE DAN SLP (SYSTEMATIC LAYOUT PLANNING): CV. MEGA JAYA LOGAM (Doctoral dissertation, Institut Sains dan Teknologi AKPRIND Yogyakarta).
Meldra, D., & Purba, H. M. (2018).
Relayout Tata Letak Gudang Barang Dengan Menggunakan Metode Dedicated Storage. Jurnal Rekayasa Sistem Industri, 4(1), 32-39.
Purnomo, H. (2004). Perencanaan dan
perancangan Fasilitas. Yogyakarta: Graha Ilmu.
Permana, I. H., Ilhami, M. A., & Febianti,
E. (2013). Relayout Tata Letak Gudang Produk Jadi Menggunakan Metode Dedicated Storage. Jurnal Teknik Industri Untirta, 1(4).
SUNDARI, S., & NEGARA, S. W.
(2017). Analisis Pengendalian Persediaan Bahan Baku Jenis Gelas 240 mL dengan Metode EOQ (Economic Order Quantity) di PT. Trijaya Tirta Dharma. Industrika: Jurnal Ilmiah Teknik Industri, 1(1).
Sugeng, U. M. (2017). Perancangan Tata
Letak Warehouse Baru Untuk Meningkatkan Kapasitas Penyimpanan Material Dengan Metode Dedicated Storage Di Pt. Xx. JISI: Jurnal Integrasi Sistem Industri, 3(1), 23-28.
Sinulingga, S. (2018). Metode Penelitian
Edisi ke 3.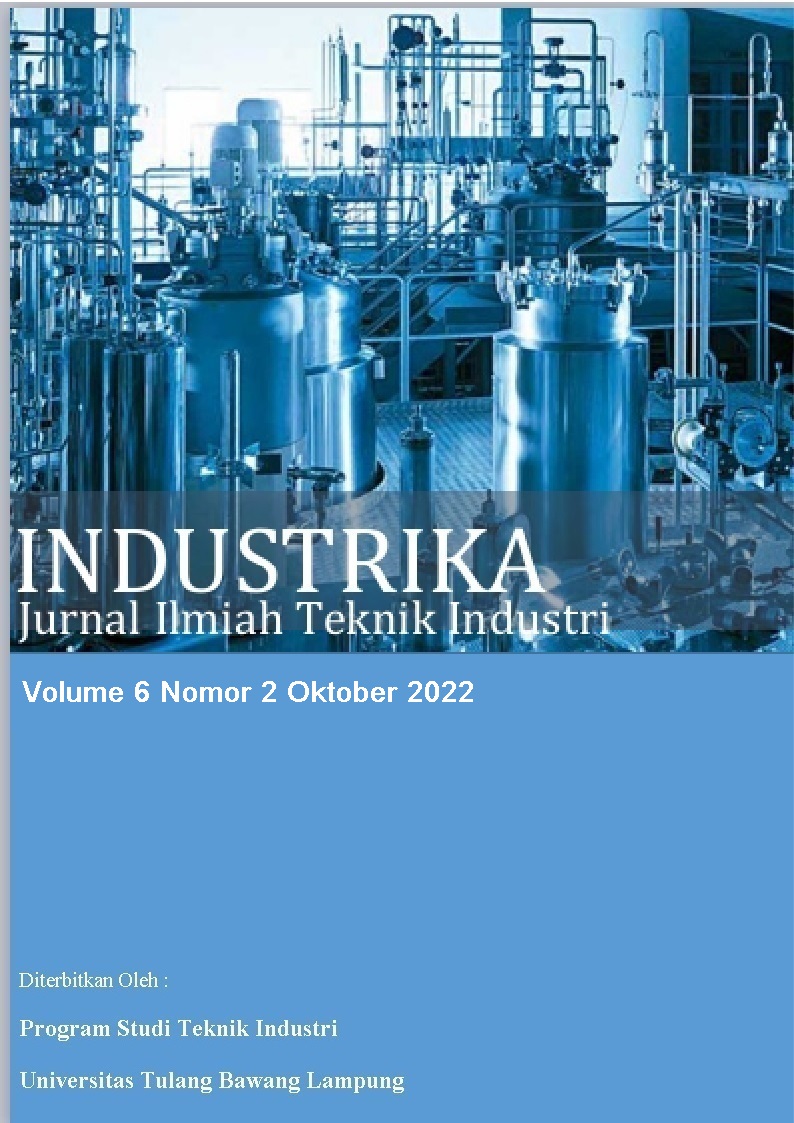 Downloads
How to Cite
Suwarni, P. E., Faradiawan, L., Sundari, S., Nudin, B., & Oktivendra, A. (2022). TATA LETAK GUDANG AIR MINUM KEMASAN PT. Z DALAM USULAN PERBAIKAN MENGGUNAKAN METODE DEDICATED STORAGE. Industrika : Jurnal Ilmiah Teknik Industri, 6(2), 66-76. https://doi.org/10.37090/indstrk.v6i2.737
License
This work is licensed under a Creative Commons Attribution-ShareAlike 4.0 International License.