PENGEMBANGAN JATI AGRO FARMING DENGAN PENAMBAHAN TAMAN AGRO FARMA BERBASIS WISATA EDUKASI DI JATI AGUNG LAMPUNG SELATAN
Keywords:
Agrofarma, Jati Agro Farming, Tanaman obat, Teh Herba,, Wisata Edukasi
Abstract
Jatiagro farming is a tourist destination in Lampung, precisely in Jati Mulyo Village, Jati Agung District, South Lampung. Jati Agro Farming is a plantation-based tourist attraction or agro-tourism with a plant nursery area which is used as an educational tourist attraction. This service activity innovates in developing Jati Agro Farming with the addition of an Agrofarma park. Agrofarma tourism is an agricultural/plantation tourism specifically for medicinal plants, which aims to provide education to the public about medicinal plants, their processing and their properties or benefits for treating a disease. The problems with Jati Agro Farming were initially limited to Human Resources (HR) which were still lacking in terms of expertise in managing plants. Jati Agro Farming does not yet have reliable human resources in the field of crop management. So many of the medicinal plants that existed previously died. Apart from that, Jati Agro Farming does not have superior products that are different compared to similar tourism. The results of the activities in the first stage were the creation of a nursery, starting from the creation of a nursery measuring 4x5 m, made of light steel with a waring roof, then preparation of medicinal plant seeds. In previous data, Jati Agro had 19 types of medicinal plants, but many have died due to neglect and only 12 types remain, which are dominated by the most common finds. The addition of medicinal plants through community service activities in the first stage included 50 types of medicinal plant seeds and they had been labeled and identified the active compounds contained therein and their benefits for treating various diseases. The total types of medicinal plants at Jati Agro Farming are 62 types.
Keywords: Agrofarma, Teak Agro Farming, Medicinal plants, Herbal Tea, Educational Tourism
References
Riadi S, Normelani E, Bachri AA, Hidayah N, Sari YP. Rancangan Atraksi Wisata Edukasi Di Kampung Hijau Kota Banjarmasin.Jurnal Pendidikan Ilmu Sosial.
;7(2):37-44.
Ermayati KC. Peranan Produk Wisata Dan Brand Strategy Terhadap Minat Kunjungan Wisatawan Di Herritage Palace Sukoharjo. Jurnal Pariwisata dan Budaya.2021; 2(2):146-155.
Yuliardi IS, Susanti AD, Saraswati RS. Identifikasi Kelayakan Wisata Alam Dengan Pendekatan 4A (Attraction, Amenity, Accesibility Dan Ancilliary. Jurnal Asitektur. 2021;1 (2): 36-53.
Al-Snafi, Ali Esmail. Pharmacological importance of Clitoria ternatea – A review. IOSR Journal of Pharmacy. 2016; 6(1):63-69.
Da-Costa-Rocha, I, Bonnlaender, B, Sievers, H, PischelI&Heinrich. Hibiscus sabdariffa L., A phytochemical and pharma-cological review.Food Chemistry. 2016; 102(65). 424- 434.
Nurnasari E, Ahmad DK. Potensi Diversifikasi Rosela Herbal (Hibiscus Sabdariffa L.) untuk Pangan dan Kesehatan. Jurnal Litbang Pertanian.2017; 9(2): 82-92.
Simanjuntak P.Identifikasi Senyawa Kimia Dalam Buah Mahkota Dewa. Jurnal Ilmu Kefarmasian Indonesia. 2008; 6(1).:23-28.
Putra, IW, Anak A, Luh MS.Identifikasi Senyawa Kimia Ekstrak Etanol Daun Kelor (Moringa oleifera L) di Bali. Indonesia Medicus Veterinus. 2016;5(5): 464-474.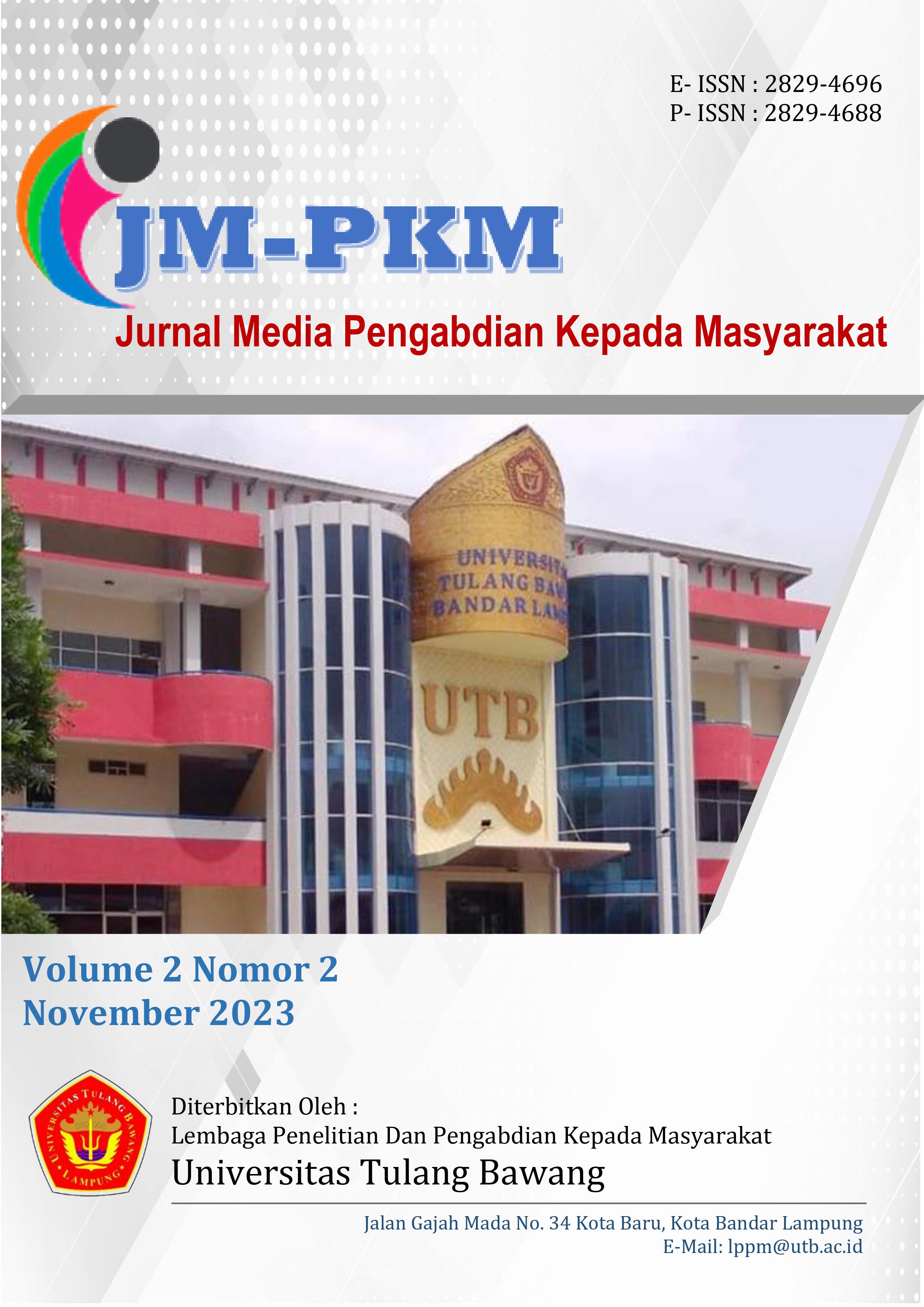 Downloads
How to Cite
Mulyani, Y. W. T., Samsuar, S., Nopiyansyah, N., Yanuari, M. ., & Susilo, A. syfa H. . (2023). PENGEMBANGAN JATI AGRO FARMING DENGAN PENAMBAHAN TAMAN AGRO FARMA BERBASIS WISATA EDUKASI DI JATI AGUNG LAMPUNG SELATAN. Jurnal Media Pengabdian Kepada Masyarakat, 2(2), 12–26. https://doi.org/10.37090/jmpkm.v2i2.1193