EDUKASI MANFAAT MINUM SUSU BAGI SISWA- SISWI SDN 3 MARGO DADI PROVINSI LAMPUNG
Keywords:
Drinking Milk, SDN 3 Margo Dadi, Education
Abstract
Currently, there are still many people who do not care about what they eat and drink, both adults and children. The problem faced by the Indonesian people is the low awareness of meeting nutritional needs, one of which is consuming milk. Milk is a source of animal nutrition that contains protein, nutrients and enormous benefits for health. This happens due to a lack of knowledge about how to recognize safe snacks, food, including drinks. The importance of knowledge about drinking milk is still not fully distributed in society, especially among children at SDN 3 Margo Dadi, Jati Agung District, South Lampung Regency. Socialization of the benefits of drinking milk is carried out to increase children's awareness of increasing milk consumption. This activity is carried out in stages, namely 1). field observation 2). counseling, and 3). UHT milk drinking demonstration and will be held on Thursday 23 October 2023 at 13.00 WIB until finished. The benefit of this activity is that it provides students with knowledge about the importance of consuming milk every day. Students prefer the chocolate flavored variant of UHT milk because the sweet taste is really liked by children.
References
Audihani, A. L., Astuti, A. P., & Maharani, E. T. W. (2020). Perbedaan kandungan protein dan laktosa pada ASI dan susu formula (usia 0-6 bulan). Seminar Nasional Edusaintek FMIPA UNIMUS 2020, 4, 239–248. https://prosiding.unimus.ac.id/index.php/edusaintek/article/view/565
Candrasari, D. P., Purwantini, D., Susanto, A., Santosa, S. A., & Hidayah, C. N. (2022). Sosialisasi Pentingnya Minum Susu bagi Manusia di Kelurahan Tanjung, Kecamatan Purwokerto Selatan. Jurnal Abdi Masyarakat Indonesia, 3(1), 109–114. https://doi.org/10.54082/jamsi.604
Christi, R. F., Edianingsih, P., & Alhuur, K. R. G. (2019). Pentingnya Minum Susu Untuk Anak Usia Dini, Remaja dan Lanjut Usia di Pesisir Pangandaran. Media Kontak Tani Ternak, 1(2), 12. https://doi.org/10.24198/mktt.v1i2.23585
Fatchiyah, F., Wihastuti, T. A., Nurdiana, N., Rohmah, R. N., Triprisila, L. F., Christianto, A., & Hasibuan, A. F. (2021). Sosialisasi Pemanfaatan Susu Kambing di SD Islam As-Salam Malang. Tri Dharma Mandiri, 1(1), 11–16. https://jtridharma.ub.ac.id/index.php/jtridharma/article/download/5/pdf
Hariono, B., Erawantini, F., Budiprasojo, A., & Puspitasari, T. D. (2021). Perbedaan nilai gizi susu sapi setelah pasteurisasi non termal dengan HPEF (High Pulsed Electric Field). AcTion: Aceh Nutrition Journal, 6(2), 207. https://doi.org/10.30867/action.v6i2.531
Nuryanto, N., Pramono, A., Puruhita, N., & Muis, S. F. (2014). Pengaruh pendidikan gizi terhadap pengetahuan dan sikap tentang gizi anak Sekolah Dasar. Jurnal Gizi Indonesia (The Indonesian Journal of Nutrition), 3(1), 32–36. https://doi.org/10.14710/jgi.3.1.121-125
Putri, E. (2016). Kualitas Protein Susu Sapi Segar Berdasarkan Waktu Penyimpanan. Chempublish Journal, 1(2), 14–20.
Sari, E. M., Juffrie, M., Nurani, N., & Sitaresmi, M. N. (2016). Asupan Protein, Kalsium dan Fosfor pada Anak Stunting dan Tidak Stunting Usia 24-59 bulan. Jurnal Gizi Klinik Indonesia, 12(4), 2502–4140.
Wu, G., Fanzo, J., Miller, D. D., Pingali, P., Post, M., Steiner, J. L., & Thalacker-Mercer, A. E. (2014). Production and supply of high-quality food protein for human consumption: Sustainability, challenges, and innovations. Annals of the New York Academy of Sciences, 1321(1), 1–19. https://doi.org/10.1111/nyas.12500
Zakiyyah, S. H. N. (2021). Susu Sapi sebagai Obat bagi Kesehatan Tubuh: Studi Takhrij dan Syarah Hadits. Jurnal Riset Agama, 1(2), 375–388. https://doi.org/10.15575/jra.v1i2.14672
Vanga, S. K., Wang, J., Jayaram, S., & Raghavan, V. (2021). Effects of pulsed electric fields and ultrasound processing on proteins and enzymes: A review. Processes, 9(4), 1–16. https://doi.org/10.3390/pr9040722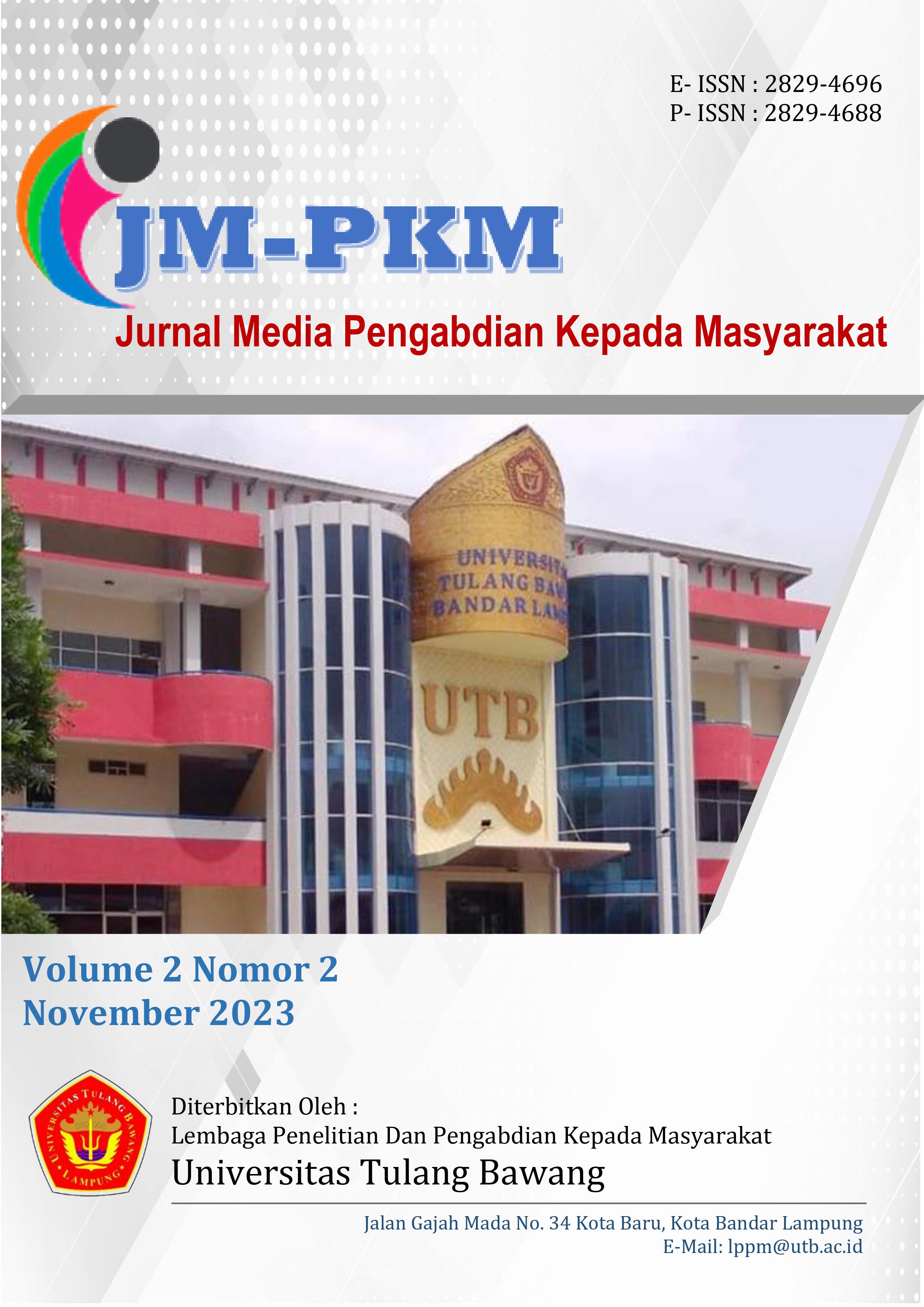 Downloads
How to Cite
Ardyani Sonjaya, N. ., Wahyudin, G. ., Arum Nabila, A. ., Dwi Satria, D. ., Adestha, A. ., & Hasani, R. . (2023). EDUKASI MANFAAT MINUM SUSU BAGI SISWA- SISWI SDN 3 MARGO DADI PROVINSI LAMPUNG. Jurnal Media Pengabdian Kepada Masyarakat, 2(2), 33–38. https://doi.org/10.37090/jmpkm.v2i2.1204
License
Copyright (c) 2023 Jurnal Media Pengabdian Kepada Masyarakat
This work is licensed under a Creative Commons Attribution-ShareAlike 4.0 International License.