PENERAPAN MODEL PSYCHOLOGICAL WELL-BEING KEPADA PARA PURNA GURU SMP DI KOTA CIMAHI JAWA BARAT DALAM UPAYA MENUMBUHKAN KEBAHAGIAAN DAN RASA BANGGA TERHADAP ALUMNINYA
Abstract
ABSTRACT Â Community service activities by applying the Psychological Well-Being (PWB) model to former SMPN X retired teachers in Cimahi city, West Java, in an effort to foster happiness and pride in their alumni, which is carried out through a counseling process. The purpose of this activity is to foster a sense of happiness and pride for the retired teachers towards the Alumni.The implementation method used is the display and lecture method. Activities are carried out face-to-face to them from five act-driver are academian, doctors, and psychologist. The number of retired teachers that we provide counseling is as many as 17 retired teachers. The activity process starts from planning activities, giving invitations, welcoming, providing counseling and alumni appearances, providing basic necessities, closing and evaluating activities. During the process, the event that most attracted the attention of the post-teacher was the introduction and appearance of successful career people and showing that the knowledge received during junior high school was very useful in their career life. The Psychological Well-Being model is a packaging for material and how to treat life in life, how to accept life, think positively towards other former teachers, increase the value of their lives, aim and purpose in life at the end of retirement, and adapt to the surrounding environment.
References
Larasati, Luisa. 2012. Gambaran Psychological Well-Being Pada Mahasiswa Indonesia Yang Belajar Di Australia Dan Singapura. Skripsi. Depok: Psikologi Universitas Indonesia.
Nastiti, M.C.; Hendriani, W. 2014. "Psychological Well-Being Pada Guru Yang Telah Menjalani Masa Pensiun.†Jurnal Psikologi Pendidikan dan Perkembangan 3(3): 221.
Rohmah, Nur. 2020. Hubungan Gratitude Dengan Psychological Well-Being Pada Narapidana Di Lembaga Pemasyarakatan Kelas I Semarang. Skripsi. Semarang: Jurusan Psikologi.
Saligram, D. ; Murthy, V. 2022. "Retirement Transitions and Social Support among Teachers.
Sumardin, H. 2021. "Persepsi Lansia Tentang Psychological Well-Being Yang Menjalani Masa Pensiun Di Wilayah Kerja Puskesmas Kota Makassar.
Tim, 2009. Psikologi Industri. 1st ed. Surabaya: Teknik Industri Universitas Wijaya Putra.
Utami, A. D. 2018. "Pengaruh Dukungan Sosial Dan Religiusitas Terhadap Subjective Well-Being Pada Pensiunan PNS.
Wiharto, A.H.; Restu, Y. S. Satria Restu. 2018. "No Title.
Wulandari, Ika. 2019. "The Role of Forgiveness on Psychological Well-Being in Adolescents: A Review.
Zain, A. 2020. Hubungan Dukungan Sosial Dan Rasa Syukur Dengan Psychological Well-Being Pada PNS Menjelang Masa Pensiun. Skripsi UIN Raden Intan Lampung.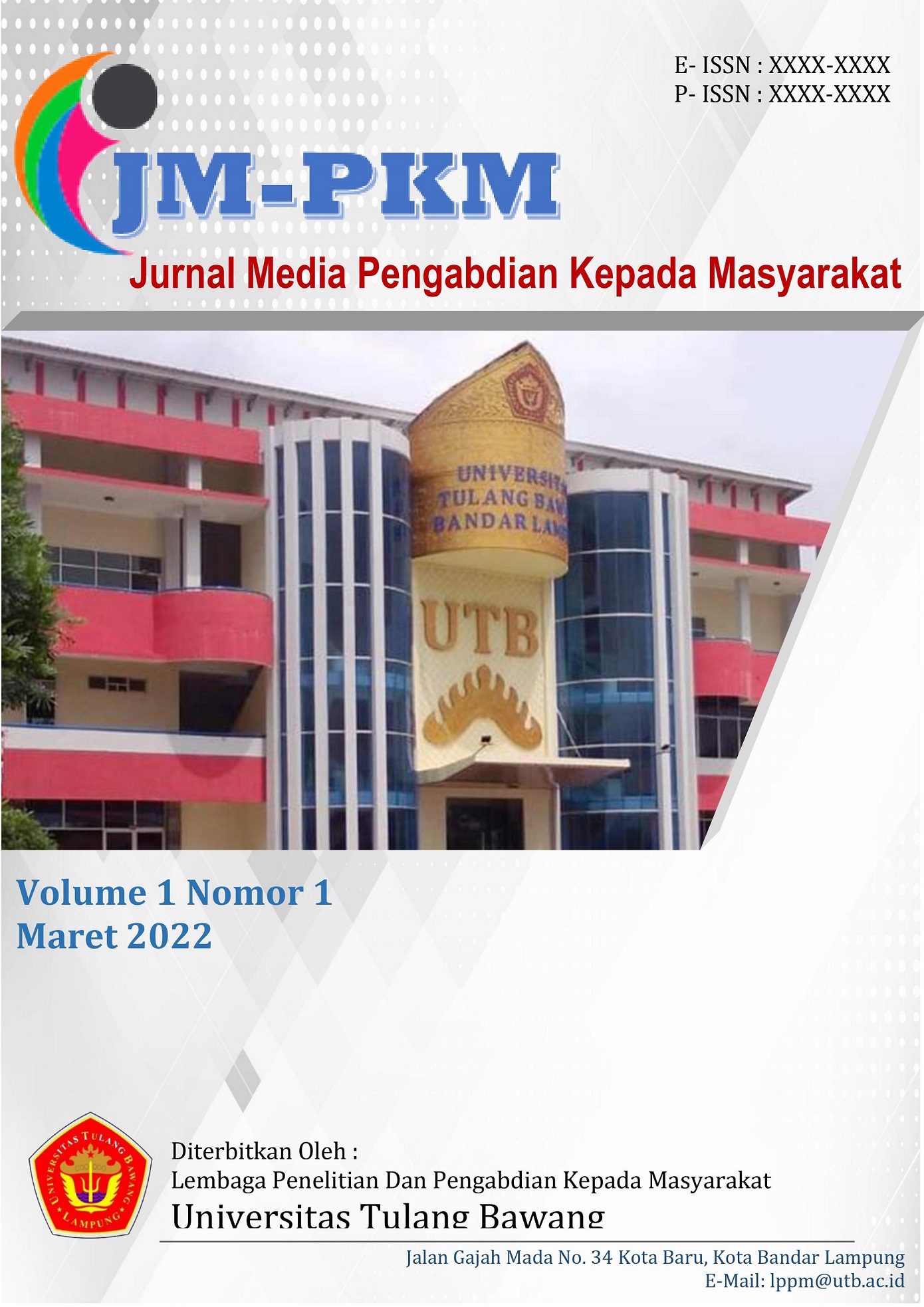 Downloads
How to Cite
Yudhanegara, D., & Kicky Basuki Putri, P. (2022). PENERAPAN MODEL PSYCHOLOGICAL WELL-BEING KEPADA PARA PURNA GURU SMP DI KOTA CIMAHI JAWA BARAT DALAM UPAYA MENUMBUHKAN KEBAHAGIAAN DAN RASA BANGGA TERHADAP ALUMNINYA. Jurnal Media Pengabdian Kepada Masyarakat, 1(1), 6-12. https://doi.org/10.37090/jmpkm.v1i1.571
License
This work is licensed under a Creative Commons Attribution-ShareAlike 4.0 International License.