EDUKASI DAN PENERAPAN PROTOKOL KESEHATAN DI INDUSTRI PARIWISATA BUKIT SAKURA LAMPUNG DIMASA NEW NORMAL
Abstract
ABSTRACT Covid-19 has affected tourism, the tourism industry has declined and some have even stopped operating. Not long after, there was the application of the new normal with the term new normal. The Minister of Tourism and Creative Economy issued guidelines for health protocols for tourism which can be applied in the midst of a pandemic. By providing a place for washing hands, measuring temperature, maintaining distance, providing disinfectant, using masks in accordance with health regulations. Tour providers should also be able to clean tourist sites at all times. With the established health protocol regulations, there will be an impact for tourists so that they can travel and feel interested, comfortable, and calm when visiting tourist attractions. This Community Service aims to invite the public to be able to implement health protocols when traveling. By looking at the readiness of the sakura hill tourism industry in the new normal, directing visitors to wash their hands, use hand sanitizer, maintain distance, provide direction and remind about the importance of obeying health protocols, and provide masks to visitors and staff to prevent the spread of the covid-19 By providing education and understanding like this, people are more orderly in traveling.
References
DAFTAR RUJUKAN
Bascha, U. F., Reindrawati, D. Y., Witaningrum, A. M., & Sumardiko, D. S. (2020). Dampak Pandemi COVID-19 Terhadap Minat Masyarakat dalam Berwisata dan Sosialisasi Penerapan Protokol New Normal Saat Berwisata. Jurnal Abdidas, 1(6), 560-570.
Devy, H. A., & Soemanto, R. B. (2017). Pengembangan obyek dan daya tarik wisata alam sebagai daerah tujuan wisata di Kabupaten Karanganyar. Jurnal sosiologi dilema, 32(1), 34-44.
Hunziger, H. (2008). Layout: Dasar & Penerapannya. PT Gramedia Pustaka Utama.
Kementerian Pariwisata dan Ekonomi Kreatif. (2020b). Panduan Pelaksanaan Kebersihan, Kesehatan, Keselamatan dan Kelestarian
Lumanauw, N. (2020). Edukasi Dan Implementasi Protokol Clean Health Safety Environtment Melalui We Love Bali Kemenparekfraf Pada Program 10 Sanur–Nusa Penida–Nusa Lembongan–Sanur. Jurnal Ilmiah Hospitality Management, 11(1), 71-81.
Sundari, S., & Suwarni, P. E. (2020). PENGUATAN LITERASI PENGELOLA DAN WISATAWAN AGROWISATA SAYUR ORGANIK KARANGREJO METRO LAMPUNG. Prosiding Hapemas, 1(1), 244-254.
Undang-undang Nomor 10 Tahun 2009 Tentang Kepariwisataan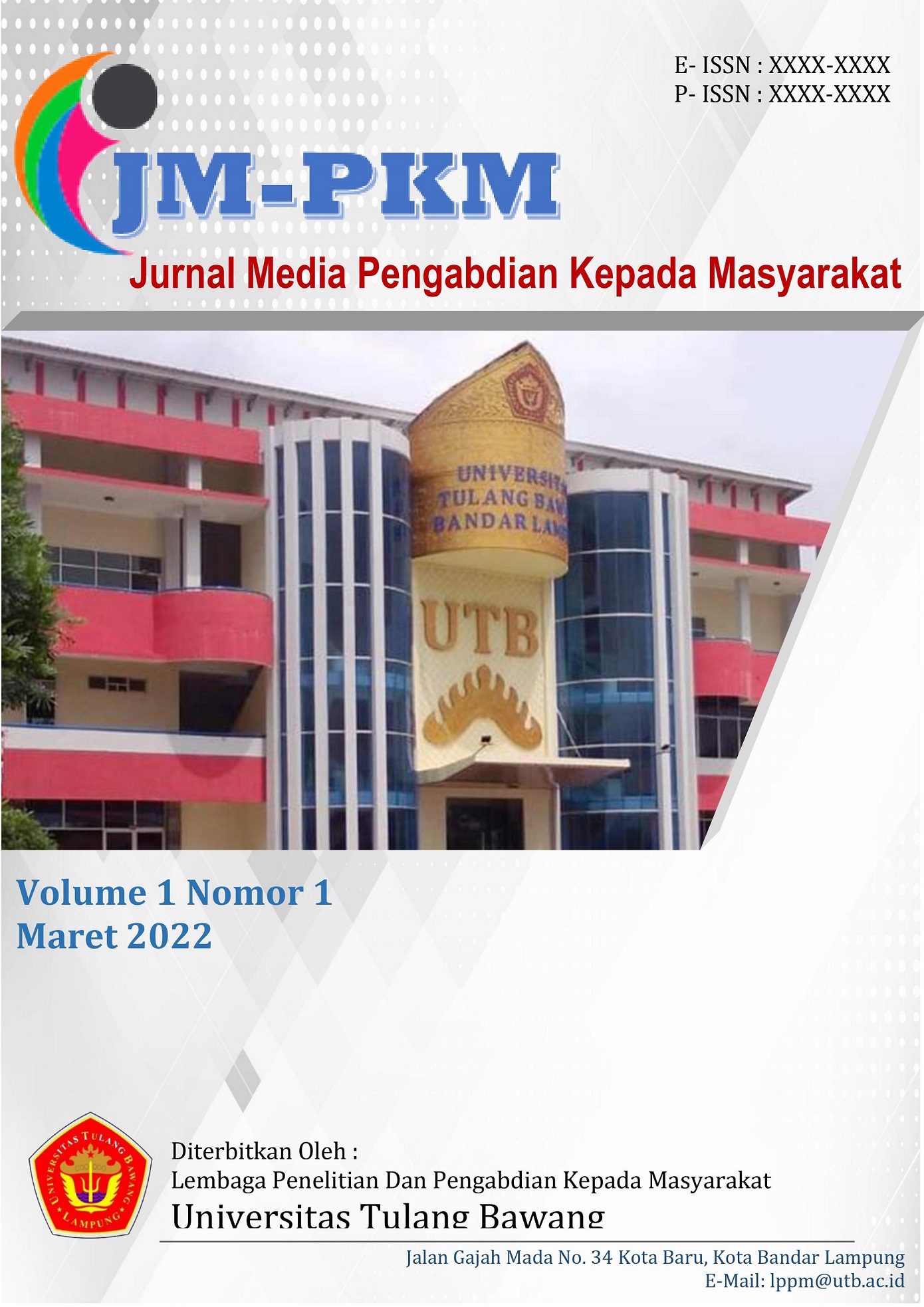 Downloads
How to Cite
Endah Suwarni, P., Sundari, S., Nudin, B., Oktivendra PI, A., & Robbyhandika, R. (2022). EDUKASI DAN PENERAPAN PROTOKOL KESEHATAN DI INDUSTRI PARIWISATA BUKIT SAKURA LAMPUNG DIMASA NEW NORMAL. Jurnal Media Pengabdian Kepada Masyarakat, 1(1), 13-18. https://doi.org/10.37090/jmpkm.v1i1.572
License
This work is licensed under a Creative Commons Attribution-ShareAlike 4.0 International License.