PENGELOLAAN, PENINGKATAN DAN PEMANFAATAN NILAI GUNA SAMPAH DI KELURAHAN NEGERI OLOK GADING KECAMATAN TELUK BETUNG BARAT KOTA BANDAR LAMPUNG
Keywords:
Keywords: Waste, TPA, management, improvement, environment
Abstract
ABSTRACT The production of household waste in Teluk Betung Barat District, Bandar Lampung City, especially in Negeri Olok Gading Village is also large. To overcome this, managing and increasing the use value of waste is a promising thing from households to the landfill. In addition, recycling and reuse are also ideal for finding alternative superior products (such as biogas, compost, recycled paper, and so on). The people of Kelurahan Negeri Olok Gading are ideally suited to be sampled around the Sang Bui Ruwa Jurai University campus. Apart from time and cost efficiency because the location is not too far away and the surrounding environment is not clean, the community also seems less concerned about cleanliness. After socialization, respondents seemed less focused and understood well the material presented. This is because the respondents who attended generally had low education (high school and below such as day laborers and casual workers), so they were only able to understand simple waste management methods, namely conventional methods of transportation and final disposal to landfill by garbage collectors. The results of data collection and descriptive analysis show the fact that the problems that arise due to the impression of slums around the environment are most likely caused by ineffective waste management from and to the TPA not from the behavior of the people of Kelurahan Negeri Olok Gading. Therefore, it is necessary to carry out knowledge provision activities and socialization of management and increase the use value of waste to the government and its staff as an option as well as continuing to hold more intensive seminars and workshops for the people of Negeri Olok Gading Village to be able to overcome the problem of environmental cleanliness in the Kelurahan area. Ivory Fool Country.
References
DAFTAR RUJUKAN
Budiasih, K.S., 2020. Pemilahan Sampah sebagai Upaya Pengelolaan Sampah yang Baik. Makalah Program PPM. Universitas Lampung
Damanhuri & Padmi, 2018. Faktor- Faktor yang Berhubungan dengan Kelainan Kulit Secara Subjektif Petugas Pengakut Sampah Di Kota Bandar Lampung. Jurnal, 2(1) : 43-53
Galileo, R., 2018. Kebijakan Pemerintah Daerah Dalam Pengelolaan Sampah Pasca Penetapan UU No. 18 Tahun 2008. Jurnal Demokrasi & Otonomi Daerah, 10(1):1- 66
Mulasari, A., Husodo, A.H., Muhadjir, N., 2020. Analisis Situasi Permasalahan Sampah dan Kebijakan Penanggulangannya. Jurnal, 11(2) : 96-106
Mulasari, S.A., 2017. The Community Participation Factor of Waste Self-Management in Gondolayu Village Province of Lampung. Proceedings International Seminar on Reserch in Sciences.
Suharto, E., 2018. Penerapan Kebijakan Pelayanan Publik bagi Masyarakat dengan Kebutuhan Khusus : Pengalaman Departemen Sosial, Focus Group Discussion : Kajian Penerapan Pelayanan Khusus (Service for Customer with Special Needs) pada Sektor Pelayanan Publik, Lembaga Admionistrasi Negara.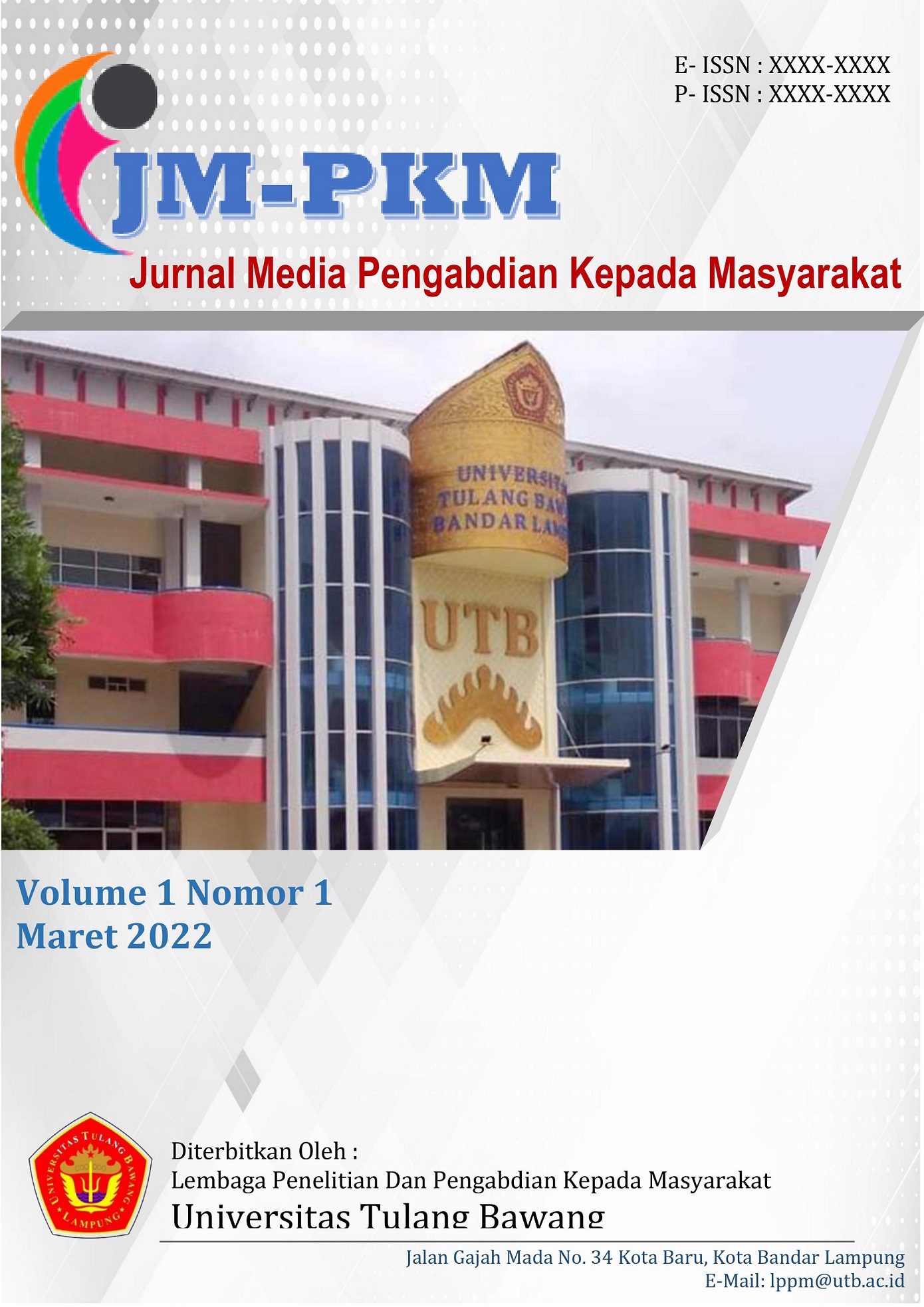 Downloads
How to Cite
Ubaya Taruna Rauf, E. ., Kumara Dewi, L. ., Nelson, N., & Juwita, F. (2022). PENGELOLAAN, PENINGKATAN DAN PEMANFAATAN NILAI GUNA SAMPAH DI KELURAHAN NEGERI OLOK GADING KECAMATAN TELUK BETUNG BARAT KOTA BANDAR LAMPUNG. Jurnal Media Pengabdian Kepada Masyarakat, 1(1), 36-44. https://doi.org/10.37090/jmpkm.v1i1.580
License
Copyright (c) 2022 Jurnal Media Pengabdian Kepada Masyarakat
This work is licensed under a Creative Commons Attribution-ShareAlike 4.0 International License.