PEMBUATAN DIREKTORI WISATA BERBASIS WEB SEBAGAI SARANA PROMOSI WISATA LAMPUNG
Keywords:
Website, Directory, Tourism Potential
Abstract
The lack of use of information technology, especially small-scale tourism business, makes the spread of information running slow. Promotions that involve information technology are needed. This article will describe the creation of promotional tools that involve information technology. the activity seeks to create a web-based tourism directory. which will be used to promote Lampung tourism. The objectives of this activity are (1) Availability of a Tourism Directory Portal that can be accessed by the wider community (2) The establishment of a database of new tourist destination potentials in the region of Lampung Province. From the results of the post-activity survey, contributors and visitors gave a positive response. The results shown that the tourism directory portal that has been created can be applied as a means of tourism promotion.
References
Faurina, R., Sari, J. P., & Agustian, I. (2022). PENGEMBANGAN WEBSITE TOURISM DAN PEMANFAATAN IKLAN UNTUK PROMOSI WISATA DESA RINDU HATI. ABDI REKSA, 3(1).
Meiridho, R., Dwi, F., Arini, S. S., Ekonomi, F., & Informatika, I. (2018). Peluang Besar Industri Pariwisata di Lampung. Seminar Nasional Teknologi dan Bisnis IIB DARMAJAYA Bandar Lampung, 181–193.
Nama domain - Wikipedia bahasa Indonesia, ensiklopedia bebas. (n.d.). Diambil 31 Oktober 2022, dari https://id.wikipedia.org/wiki/Nama_domain
Prakoso, R. D., & Asmunin. (2018). IMPLEMENTASI DAN PERBANDINGAN PERFORMA PROXMOX DALAM VIRTUALISASI DENGAN TIGA VIRTUAL SERVER. Jurnal Manajemen Informatika, 8(1), 79–85.
Sukamto, R. A., & Shalahuddin. (2015). Rekayasa Perangkat Lunak Terstruktur dan Berorientasi Objek. Informatika.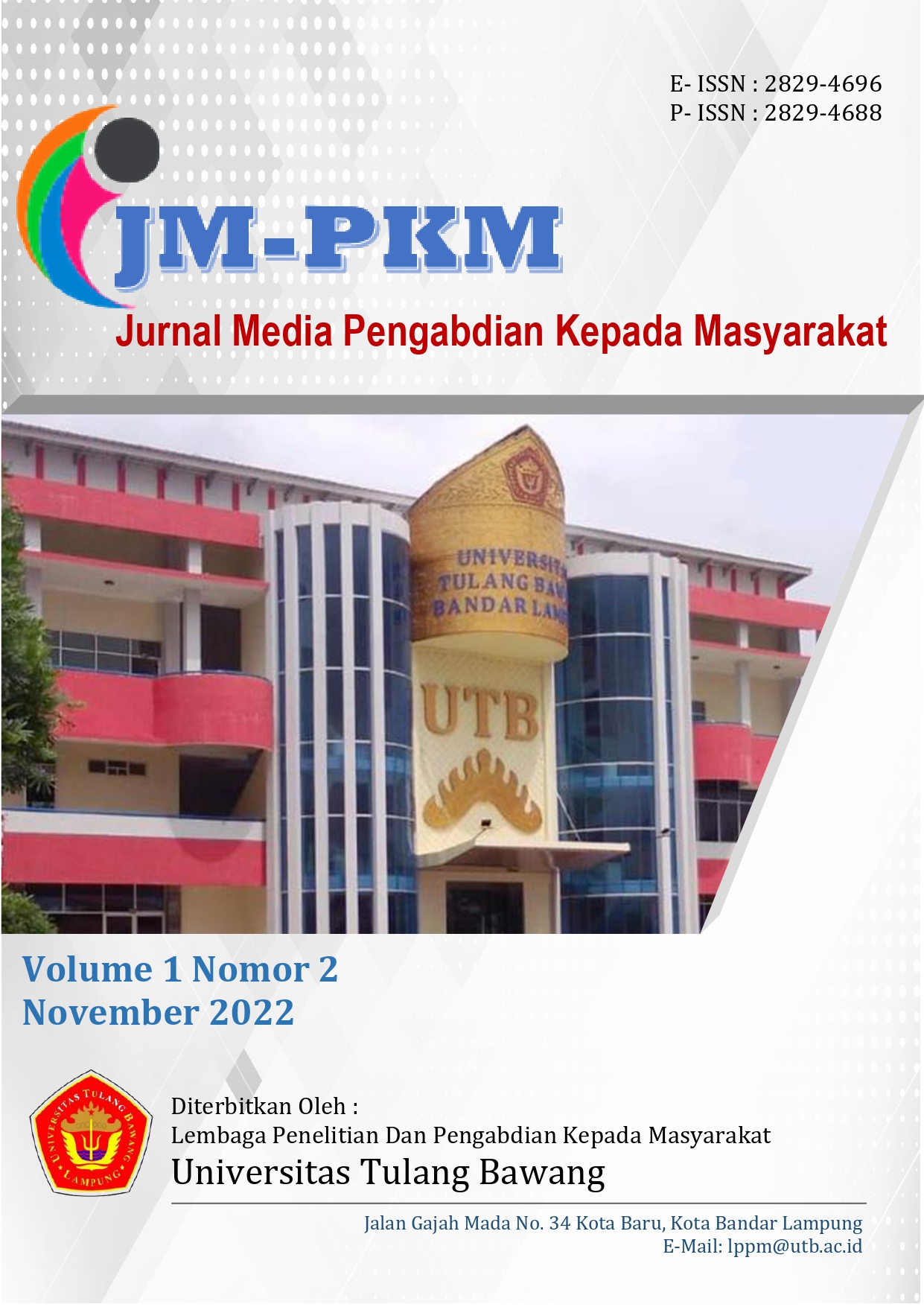 Downloads
How to Cite
Basri, H., & Suhardi, S. (2022). PEMBUATAN DIREKTORI WISATA BERBASIS WEB SEBAGAI SARANA PROMOSI WISATA LAMPUNG. Jurnal Media Pengabdian Kepada Masyarakat, 1(2), 97-103. https://doi.org/10.37090/jmpkm.v1i2.746