MEMBANGUN BUDAYA SADAR HUKUM SISWA DALAM PEMAHAMAN HAK ASASI MANUSIA DI SEKOLAH
Keywords:
Human Rights, Legal Culture, Schools
Abstract
This Community Service activity aims to increase legal awareness of the community, especially the younger generation in understanding their own human rights and the importance of respecting the human rights of others within the framework of the rule of law. This is important so that students do not only promote the Human Rights inherent in themselves, but ignore the Human Rights which are also attached to others. The specific target of this activity is expected to be a solution and an effort to encourage a culture of law awareness so that the conditions for law-abiding and law-abiding among young people are increasingly created. So that the target audience in this activity is high school students. The location of the activity was carried out at MAN 1 Bandar Lampung. The method used in this activity is through lectures and discussions. It is hoped that after this activity is carried out, the participants will increase their understanding of Human Rights as regulated in laws and regulations so as to encourage the creation of a culture of legal awareness. The results of the activity show that: the legal awareness of the activity participants towards human rights has increased by up to 85%. This is indicated by several indicators including human rights; children's rights; the purpose of protecting human rights; regulation of human rights in Indonesia; and the importance of a litigious culture.
References
Achmad Ali dan Wiwie Heryani. 2012. Menjelajahi kajian empiris terhadap hukum. Jakarta: kencana
Esmi Warassih. 2011. Pranata Hukum Sebuah Telaah Sosiologis. Semarang, Badan Penerbitan Universitas Diponegoro.
Franz Magnis Suseno. 2001. Etika Politik: Prinsip-Prinsip Moral Dasar Kenegaraan Modern. Jakarta: PT Gramedia Pustaka Utama.
Lawrence M. Friedman, 1986. Legal Culture and Welfare State, dalam Gunther Teubner (Ed), Dilemas of Law in the Welfare State. New York: Walter de Gruyter.
Lawrence M. Friedman, 1975. The Legal System. New York: Russell Sage.
Marwan Mas. 2014. Penghantar ilmu hukum. Bogor: Penerbit Ghaila Indonesia
Soerjono Soekanto. 2002. Kesadaran hukum dan kepatuhan hukum. Jakarta: Raja Grafindo Persada.
Sudikno Mertokusumo. 1981. Menigkatkan Kesadaran Hukum Masyarakat, Edisi Pertama. Yogyakarta: Liberti.
Theo Huijbers. 1982. Filsafat Hukum dalam Lintasan Sejarah. Yogyakarta: Kanisius.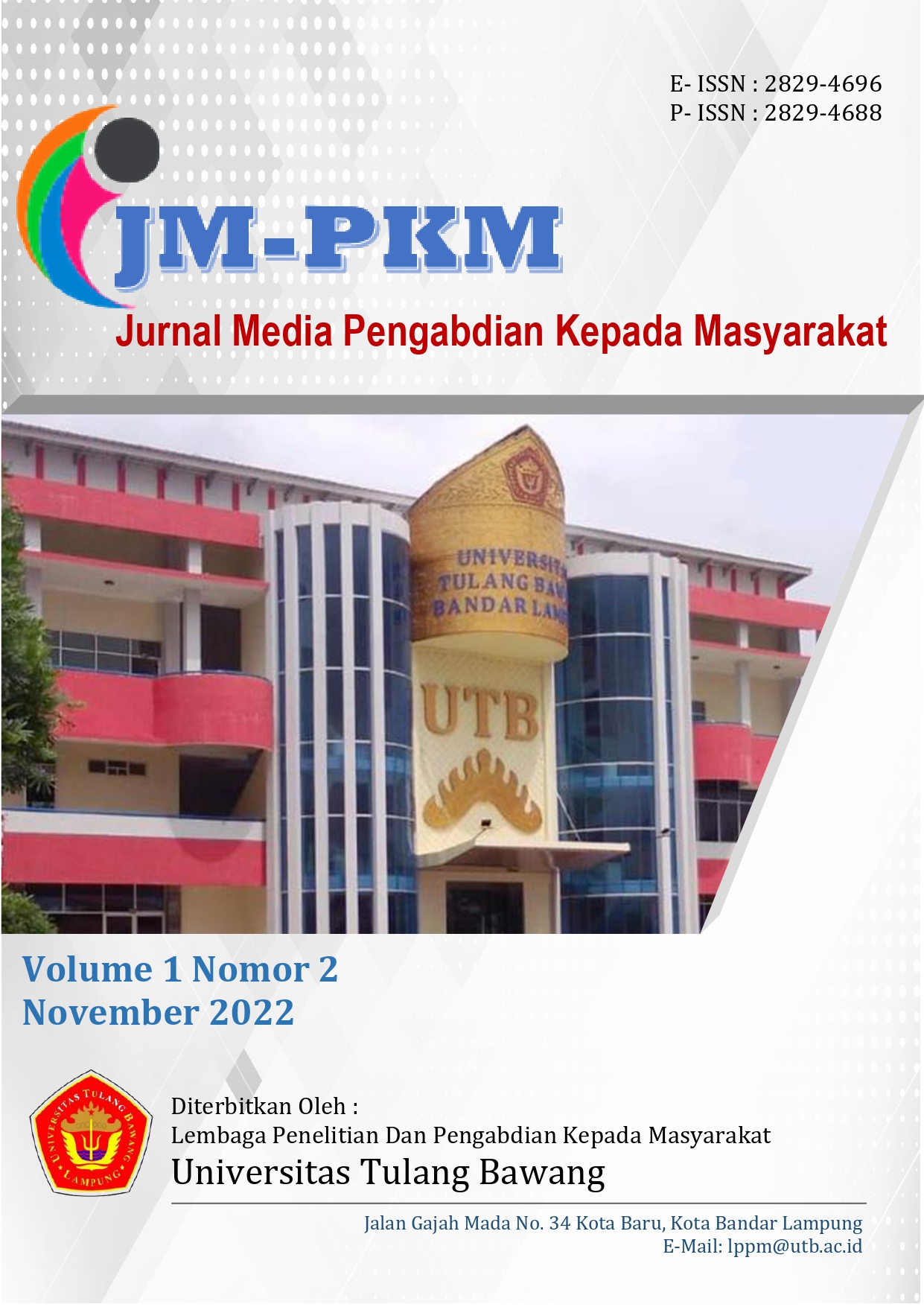 Downloads
How to Cite
Yusdiyanto, Y., Evendia, M. ., Riananda, M. ., Saleh, A. ., & Nurhalimah, D. . (2022). MEMBANGUN BUDAYA SADAR HUKUM SISWA DALAM PEMAHAMAN HAK ASASI MANUSIA DI SEKOLAH. Jurnal Media Pengabdian Kepada Masyarakat, 1(2), 104–111. https://doi.org/10.37090/jmpkm.v1i2.747
License
Copyright (c) 2022 Jurnal Media Pengabdian Kepada Masyarakat
This work is licensed under a Creative Commons Attribution-ShareAlike 4.0 International License.