PENINGKATAN PRODUKSI DAN PEMASARAN PADA USAHA RISOL MELALUI DIGITAL MARKETING
Keywords:
Digital Marketing, Production, Vegetable Risol
Abstract
Risol is a snack that has been known for so long. As a market snack, risol sold in the form of ready-to-eat already has a relatively stable market demand. Because risol is very popular from various circles, both ordinary people and office workers, for this reason, Nasi Goreng and Gorengan SMEs are also trying to develop their talents by opening a type of business "VEGETABLE RISOL" because many of these risols imitate being partners and continue to innovate. The main problems for partners are in terms of production, management and digital marke
ting. The purpose of the service activity is to increase the production and income of partners through sales promotions and implement science and technology to inspire market snack consumers to always innovate so that their products are liked by consumers. Solutions and targets by providing production support equipment needs, increasing skills, counseling on marketing strategies and simple bookkeeping as well as simulating trademark labeling and developing social media for sales promotion. The results and discussion of activities that have an important impact on the community and benefit all parties directly involved in service activities.
Keywords: Digital Marketing, Production, Vegetable Risol
References
[BPOM] Badan Pegawas OBat dan Makanan Berdasarkan Keputusan Presiden Nomor 103 Tahun 2001
tentang Kedudukan, Tugas, Fungsi, Kewenangan, Susunan Organisasi dan Tata Kerja Lembaga
Pemerintah Non Departemen..
Ahira Anne. 2011. Daging Ayam. Diakses dari www.anneahira.com/daging-ayam.htm diambil Tanggal
Jui 2022, 23.00 WIB
Celcilia Sharren. 2012. Mengenal Kentang Lebih Dalam dan Beragam Manfaatnya. Diakses dari http://www.tribunnews.com/2012/04/09/mengenal-kentang- lebihdalam-dan-beragam-manfaatnya
Cahyono, B. 2002 Wortel Teknik Budidaya dan Analisa Usaha Tani. Kanisius. Yogyakarta. hal: 9-19.
Keller, Kevin L. (2013). Strategic Brand Manajemen ; Building, Measuring, and Managing Brand Equity. Fourth Edition Harlow, Pearson Education Inc.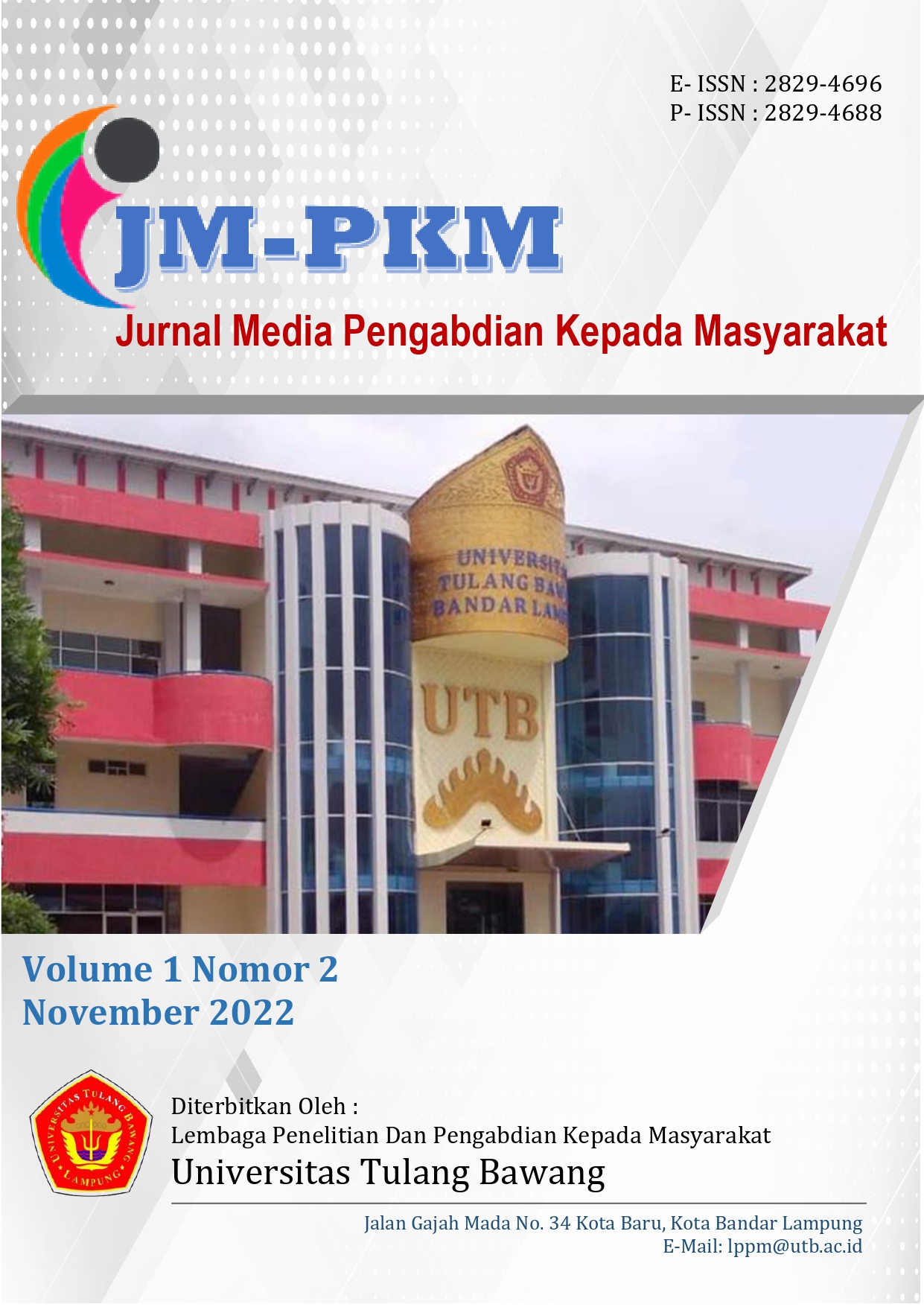 Downloads
How to Cite
Suhartina, S., Wahyu Tri Mulyani, Y. ., & Ubaya Taruna Rauf , E. . (2022). PENINGKATAN PRODUKSI DAN PEMASARAN PADA USAHA RISOL MELALUI DIGITAL MARKETING. Jurnal Media Pengabdian Kepada Masyarakat, 1(2), 112–117. https://doi.org/10.37090/jmpkm.v1i2.827
License
Copyright (c) 2022 Suhartina
This work is licensed under a Creative Commons Attribution-ShareAlike 4.0 International License.