Pengaruh Pemberian Bungkil Kelapa Sawit Segar (BKS) dan Fermentasi (BKSF) Terhadap Kualitas Fisik Telur Itik
Abstract
This research was conducted to utilize fresh and fermented palm kernel cake in the ducks diets on egg physical quality. One hundred and five laying ducks were randomly devided in to five diets treatments in three replications with seven laying ducks each the dietary treatments were K = control, was diet without palm kernel cake, BKS 10 and BKS 30 diets with addition 10 % and 30 % fresh palm kernel cake, BKSF 10 and BKSF 30 diets with addition 10 % and 30 % fermented palm kernel cake. The data collected were egg mass, shell thickness, Haugh Unit and yolk colour and will be analyzed by a one way classification of variance analysis (CRD), followed by testing the significant mean by Duncan's New Multiple Range Test (DMRT). The results showed the egg mass, shell thickness, and HU had not significant different and egg mass were (64,74, 65,71, 67,22, 65,39, 63,52 g), shell thickness were (0,47, 0,49, 0,44, 0,48, 0,45 mm), Haught Unit were (86,81, 87,44, 90,94, 88,15, 88,08 %). Yolk colour had significant different between the treatment (9.31, 9,72, 9,81, 10,69, 10,74). It be concluded that the utilization 30% of fresh and fermented palm kernel cake in feed duck had not increase egg mass, shell tickness, and haugh unit, except on yolk colour. Key words :Fermentation, Egg Quality, Laying Duck, Palm kernel cake
Downloads
Download data is not yet available.
References
Amrullah, I. K. 2003. Nutrisi ayam petelur. Penerbit : lembaga satu gunung budi. Bogor
Appleby, M.C., Hughes and H.A. Elson.1992. Poultry Production System. CAB International. Redwood Press ltd, Melksham.
Astuti, M. 2007. Pengantar Ilmu Statistik Untuk Peternakan dan Kesehatan Hewan. Cetakan Pertama Binasti Publisher. Bogor.
Dewi, Trias R. L. 2002. Kualitas Telur Itik Turi yang Mendapat Feed Aditif Dalam Ransum Dengan Tingkat Serat Kasar Yang Berbeda. Skripsi S1. Fakultas Peternakan. Universitas Gadjah Mada. Yogyakarta.
Etches, R.J. 1996. Reproduction in Poultry CAB international. Departement of Animal Science. University of Guelph, Ontario, Canada.
Ezieshi, E.V., and Olomu, J. M. 2007. Nutritional Evaluation of Palm Kernel Meal type: 1. Proximate composition and metabolizable energy values. Departement Of Animal Science. University Of Bevin. Nigeria
Hair-Bejo M and A.R Alimon. 1995. The protective role of zinc in palm kernel cake (PKC) toxicity in sheep. Faculty of Veterinary Medicine and Animal Science, Universiti Pertanian Malaysia, 43400 UPM Serdang. Mal. J. Nutr. 1:75-82.
Hunton. P. 1995. Poultry Production. The Ontaria Egg Producers Marketing Board Mississagua, Ontario, Canada.
Jouary, J.P. 1991. Rumen Microbial Metabolism and ruminant digestion. Institute National De La Recherche Agronomique. Paris.
Kamra, D. M. 2005. Rumen Microbial ecosystem. Current Science. Vol 89 (1) : 124-135
Mathius, I.W. 2008. Pengembangan sapi potong berbasis industry kelapa sawit. Pengembangan inovasi pertanian 1(2): 206-224. http://www.pustaka-deptan .go.id/publikasi/ip013083.pdf. diakses tanggal 13 april 2010.
McDonald, P., R.a Edwards, J.F.D. Greenhalg, and C.A. Morgan. 2002. Animal Nutrition 6th Edition. Pearson, Prentice Hall.
Mirwandhono, E dan Z. Siregar. 2004. Pemanfaatan Hidrolisat Tepung Kepala Udang dan Limbah Kelapa Sawit yang di Fermentasi dengan aspergilus niger, Rhizophus Oligosporus, dan Trichoderma Viridae dalam ransum ayam pedaging. Fakultas Pertanian, Universitas Sumatera Utara.
North, M. D. dan D. D. Bell. 1990. Commercial Chicken Production Manual. 4th ed. Avi Pub. Co. Inc. Westport, Connecticut.
North, M.D. 1984. Commercial Chicken Production Manual. 3nd ed. Avi Pub. Co. Inc. Westport, Connecticut.
Prasetyo, L.H dan Ketaren P.P. 2005. Interaksi antara bangsa itik dan kualitas ransum pada produksi dan kualitas telur itik local. Seminar Nasional Tekhnologi Peternakan dan Veteriner. Balai Litbang Ternak. Bogor.
Raharjo, I. L. Pengaruh umur terhadap kualitas telur pada itik yang dipelihara secara intensif. Skripsi S1. Fakultas Peternakan. Universitas Gadjah Mada. Yogyakarta.
Scott, M. L., M. C. Nesheim and R. J. Young. 1982. Nutrition Of The Chicken. 3thEditions. L. Scott and Associates. Ithaca, Newyork.
Stadelman, W. J., and O. J Cotterill. 1995. Egg Science and Technology. Fourth Edition. Avi Publishing.Co., Inc. Westport, Conecticut.
Sundu, B. 2004. Bungkil Kelapa Sawit Untuk Pakan Broiler. HTTP//www.poultry Indonesia.com//. Diakses tanggal 13 april 2010.
Sunarko. 2007. Petunjuk Praktis Budidaya dan Pengolahan Kelapa Sawit. Agromedia Pustaka, Jakarta.
Supriyadi, 2005. Kualitas fisik telur burung puyuh yang mendapat ransum mengandung minyak sawit dan minyak ikan lemuru serta penambahan vitamin E. Skripsi S1. Fakultas Peternakan Universitas Gadjah Mada. Yogyakarta.
Yuawanta, T. 2002. Telur dan produksi telur. Fakultas Peternakan. Universitas Gadjah Mada. Yogyakarta.
Yuwanta, T. 1995. Mengapa Telur Mudah Pecah. Gallusia edisi 09 Thn.X.
Yuwanta, T. 1992. Pengaturan cahaya dan pakan alternative pada ayam broiler breeder : pengaruhnya terhadap pola konsumsi pakan dan ritme peneluran, fertilitas dan kualitas telur. Jurnal ilmiah . laporan penelitian ternak grati 2 : 89-92.
Winarno, F.G., dan S Fardiaz. 1980. Biofermetasi dan Biosintesa Protein. Angkasa. Bandung.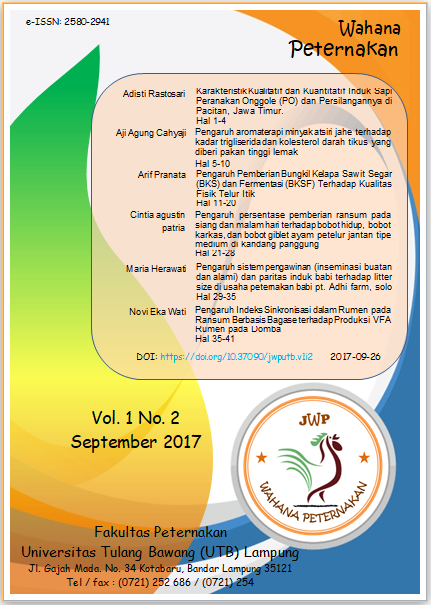 Downloads
How to Cite
Pranata, A. "Pengaruh Pemberian Bungkil Kelapa Sawit Segar (BKS) Dan Fermentasi (BKSF) Terhadap Kualitas Fisik Telur Itik". Wahana Peternakan, vol. 1, no. 2, Sept. 2017, doi:10.37090/jwputb.v1i2.42.