Rantai Pemasaran Ayam Kampung Super di Kabupaten Lampung Timur
Abstract
This study aims to find out the super-native chicken marketing chain and to find out the marketing efficiency of super native chickens in East Lampung Regency. The research method is descriptive analytical method, which is a combination of descriptive methods and analytical methods. The study was conducted in April-May 2018. The results showed that there were three marketing chains of super-native chickens in East Lampung Regency, namely pattern I (farmers-collectors-small-consumer), pattern II (farmers-collectors / small collectors-consumer), and pattern III (farmers- consumer). The marketing margin for pattern I is Rp.27,500 / tail and pattern II is Rp.8,500 / tail. Marketing of super-native chickens in East Lampung Regency has been efficient with an efficiency value of 64.75 percent. Keywords: marketing chain, super-native chicken, marketing margin
References
Direktorat Jenderal Peternakan dan Kesehatan Hewan. 2016. Statistik Peternakan dan Kesehatan Hewan 2016. Kementerian Pertanian. Jakarta.
Hasanah, L., Ujang Suryadi, dan Wahjoe Widhijanto. 2017. Analisis Saluran Distribusi dan Margin Pemasaran Telur Itik di Kabupaten Situbondo. Jurnal Ilmu Peternakan Terapan. 1(1): Hal 25-3. Oktober 2017. [28 September 2018]
Kotler, P dan K.L. Keller. 2008. Manajemen Pemasaran Jilid 1. Erlangga. Jakarta.
Rahim, A dan D.R.W. Hastuti. 2008. Pengantar, Teori dan Kasus Ekonomika Pertanian. Penebar Swadaya. Jakarta.
Sudiyono. 2002. Pemasaran Pertanian. UMM Press. Malang.
Sugiono. 2009. Metode Penelitian Bisnis (Pendekatan Kuantitatif, Kualitatif, dan R&D). Alfabeta. Bandung.
Tjahjono HK dan Ardi H. 2008. Kajian Niat Mahasiswa Manajemen Universitas Muhammadiyah Yogyakarta Untuk Menjadi Wirausaha. Utilitas Jurnal Mananjemen Bisnis. 16(1): Hal 46-63. [28 Mei 2017].
Zubaidi, A. 2008. Analisis Usahatani dan Pemasaran Kedelai di Kecamatan Ketapang Kabupaten Sampang. Jurnal Buana Sains 8(2) : Hal 131-136. [20 Mei 2017].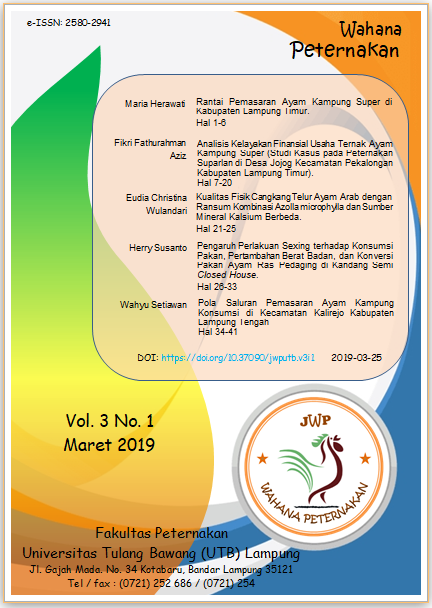 Downloads
How to Cite
Herawati, M., and Setiyowati. "Rantai Pemasaran Ayam Kampung Super Di Kabupaten Lampung Timur". Wahana Peternakan, vol. 3, no. 1, July 2019, doi:10.37090/jwputb.v3i1.111.
License
Copyright (c) 2019 Wahana Peternakan
This work is licensed under a Creative Commons Attribution 4.0 International License.