Kualitas Fisik Pellet dengan Penambahan Level Tepung Daun Ubi Kayu serta Bahan Perekat yang Berbeda
Abstract
ABSTRACT One alternative that can be used for poultry feed is cassava flour (Manihot esculenta) which can be made into pellets. The purpose of this research was to know the physical quality of water content (KA), specific gravity (BJ), stack angle (ST), stack density (KT), stack compaction density (KPT), and impact resistance (KB) of pellet product with utilization of flour cassava (Manihot esculenta). This research using Completely Randomized Design (RAL) Factorial. Factor A consisting of 3 treatments, that were A0: without adding cassava leaf flour, A1: 5% and  A2: 10% in ration formulation and Factor B consisting of 3 treatments binders, that were B0 : basal ration not binders,  B1: tapioca starch and B2: wheat flour. The results showed that the interaction between the addition of cassava leaf flour and binders with different levels can be seen from water content, stack angle and stack compaction density, but on specific gravity, stack density and impact resistance did not occur interaction. It can be concluded that the addition of 10% cassava flour with tapioca flour binders gives the best quality of pellet physical properties to moisture content and stack angle, while other treatment combinations have not been able to improve pellet quality based on specific gravity, stack density, stack compaction density and impact resistance. Keywords: Pellet, Cassava Leaf, Flour, Binders
Downloads
Download data is not yet available.
References
DAFTAR PUSTAKA
Akbar, M.RL., D.M. Suci dan I. Wijayanti. 2017. Evaluasi kualitas pellet pakan itik yang disuplementasi tepung daun mengkudu (Morinda citrifolia) dan disimpan selama 6 minggu. Buletin Makanan Ternak. 104 (2): 31-48
Jaelani A., Siti. D dan Wacahyono. 2016. Pengaruh tumpukan dan lama masa simpan pakan pelet terhadap kualitas fisik. Ziraa'ah. 41(2):261- 268
Khalil. 1999a. Pengaruh kandungan air dan ukuran partikel terhadap perubahan perilaku fisik bahan pakan lokal: Kerapatan Tumpukan, Kerapatan Pemadatan Tumpukan dan Berat Jenis. Media Peternakan, 22(1): 1-11.
Kling, M and W. Wohlbier. 1983. Handels Futtermitter, Band 2A. Verlag Eugen Ulmer. Stuttgart.
Luciana, D.Y. 2012. Uji Kualitas Sifat Fisik dan Daya Simpan Pellet yang Mengandung Klobot Jagung dan Limbah Tanaman Ubi Jalar sebagai Substitusi Daun Rumput Gajah. Skripsi. Fakultas Peternakan. Institut Pertanian Bogor. Bogor.
Meinerz, C., Ribeiro, A. M. L., Penz Jr, A. M., and Kessler, A. M. 2001. "Energy Level and Pelleting on Performance and Carcass Yield of Pair-Fed Broilers." Brazilian Journal of Animal Science 30 (6): 2026-32.
McElhiney, R. R. 1994. Feed Manufacturing Technology IV. American Feed Industry Association, Inc. Arlington, Virginia.
Nurhayatin, T. dan M. Puspitasari. 2017. Pengaruh cara pengolahan pati garut (aranta arundinacea) sebagai binder dan lama penyimpanan terhadap kualitas fisik pellet ayam broiler. Jurnal of Animal Husbandry Science. 2 (1): 32-40
Mckinney, L. J., and Teeter, R. G. 2004. "Predicting Effective Caloric Value of Nonnutritive Factors: Part I, Pellet Quality and Part II, Prediction of Consequential Formulation Dead Zones." Poultry Science 83 (7): 1165-74.
Retnani Y., L. Herawati., dan S. Kusniati. 2011. Uji sifat fisik ransum broiler starter bentuk crumble berperekat tepung tapioka, bentonit dan onggok. JITV. 1(2): 88-97
Retnani Y., Putra E.D., dan L. Herawati. 2011. Pengaruh taraf penyemprotan air dan lama penyimpanan terhadap daya tahan ransum broiler finisher berbentuk pellet. Agripet, 11(1), 10-14
Sayekti, W. B. R. 1999. Karakteristik sifat fisik berbagai varietas jagung (Zea mays). Skripsi. Fakultas Peternakan. Institut Pertanian Bogor.Bogor.
Sholihah, U. I. 2011. Pengaruh Diameter Pelet dan Lama Penyimpanan Terhadap Kualitas Fisik Pelet Daun Legume Indigofera sp. Skripsi. Fakultas Peternakan. Institut Pertanian Bogor. Bogor.
Steel, R. G. D and J. H. Torrie. 1995. Prinsip dan Prosedur Statistik. Terjemahan : B. Sumantri. PT Gramedia Pustaka Utama, Jakarta.
Syarief, R dan H. Halid. 1994. Teknologi Penyimpanan Pakan. Penerbit Arcan. Jakarta.
Thomas, M and A.F.B. Van der Poel. 1997. Physical quality of pelleted animal feed contribution of processes and its condition. J. Animal Feed Science and Technology. 64(2): 173-192.
Zalenka, J. 2003. "Effect of Pelleting on Digestibility and Metabolizable Energy of Poultry Diets." In Proceedings of European Symposium on Poultry Nutrition, 127-8.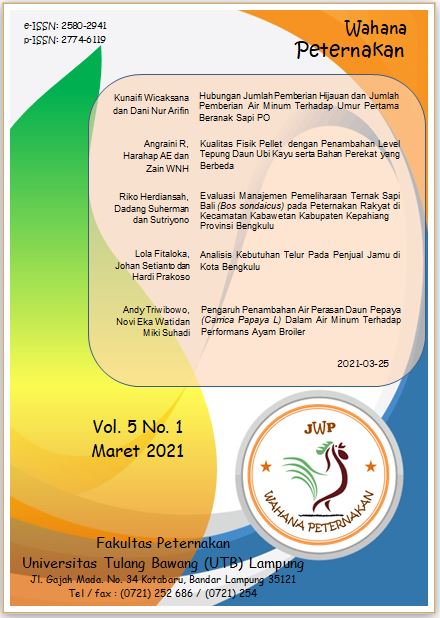 Downloads
How to Cite
Efendi Harahap, A. ., and W. . Nurwidada Haritsah Zain. "Kualitas Fisik Pellet Dengan Penambahan Level Tepung Daun Ubi Kayu Serta Bahan Perekat Yang Berbeda". Wahana Peternakan, vol. 5, no. 1, Mar. 2021, pp. 5-14, doi:10.37090/jwputb.v5i1.165.
License
Copyright (c) 2021 Anwar Efendi Harahap
This work is licensed under a Creative Commons Attribution-ShareAlike 4.0 International License.