PENGARUH SISTEM PENGAWINAN (INSEMINASI BUATAN DAN ALAMI) DAN PARITAS INDUK BABI TERHADAP LITTER SIZE DI USAHA PETERNAKAN BABI PT. ADHI FARM, SOLO
Abstract
The aims of this study was to determine the optimal litter size which produce from the mating system and the sow parity by noticing the litter size born alive, the age of weaning, litter size at weaning, mortality during the suckling period and litter size at weaning percentage. Fourty one farrowing and weaned sows are used in this research. The first factor is the mating system, included artificial insemination and natural service. The second factor is the parity of the sow (1 up to 5). The data collected were litter size born alive, the age of the weaning, the weaned litter size, mortality of the suckling period and litter size at weaning percentage.The result showed that the mating system had significant effect (P<0.05) on litter size born alive, but not significantly affected (P>0.05) on the age of the weaning, the litter size at weaning, mortality during the sucling period and litter size at weaning percentage. The parity had significantly effect (P<0.05) on the age of the weaning, but not significantly affected (P>0.05) on the litter size born alive, mortality during the sucling period and litter size at weaning percentage. The interaction between the mating system and the parity was significantly effected (P<0.05) on litter size born alive and litter size at weaning. The natural service on the second parity was produce most optimal litter size. Keywords: Litter size, Mating system, Parity
References
Chabo, R.G., P. Malope dan B. Babusi. 1999. Department of Animal Science and Production Botswana Collage of Agriculture. Available at http:// www.cipav.org.co/irrd/1rrd12/2/cha 123 htm.[18 Oktober 2005].
McIntosh, B. 2005. McIntosh AB consultans. Available at http:// www.dbi.glg.gov.au/pigs/4555.html. [18 Oktober 2005].
Siagian, P.H. 1999. Manajemen Ternak Babi. Jurusan Ilmu Produksi Ternak. Institut Pertanian Bogor.
Sihombing, D.T. H. 1997. Ilmu Ternak Babi. Gadjah Mada University Press, Yogyakarta.
Toelihere, M.R. 1993. Inseminasi Buatan pada Ternak. Angkasa, Bandung.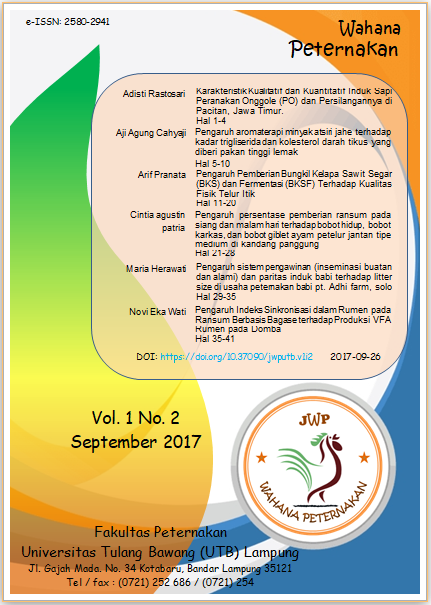 Downloads
How to Cite
Herawati, M. "PENGARUH SISTEM PENGAWINAN (INSEMINASI BUATAN DAN ALAMI) DAN PARITAS INDUK BABI TERHADAP LITTER SIZE DI USAHA PETERNAKAN BABI PT. ADHI FARM, SOLO". Wahana Peternakan, vol. 1, no. 2, Sept. 2017, doi:10.37090/jwputb.v1i2.44.