Efisiensi Produksi Susu Sapi Perah Di Kelompok Peternak Mandiri Sejahtera Desa Tajurhalang Kabupaten Bogor
Abstract
This research aims to know efficiency of milk production at Mandiri Sejahtera Dairy Farmers Group and also to know how the factors of milk productions influence the amount of milk production at that group. Research methode which is used is with using giving quiz containing questions about factors relating to milk production. Factors of milk production which are researched are ownership of dairy cow for every farmer (SL), forage (H) and concentrate (K) which is used for every month/dairy cow, and working time per month/dairy cow. Data analysis used is using Cobb Douglass Equation, so, We could get milk production equation and know factors which significant (P < 0,01 atau P < 0,05) influence to milk production. Cobb Douglas Function of that milk production is LnPS = 0,38 + 0,432 LnH - 0,263 LnK + 0,590 LnJ* + 0,941 LnSL**. Factors most significant (P < 0,01) influence the milk production are the ownership of dairy cow. The ownership of dairy cow which is efficient is about 3,32 LU/month/farmer which could produce milk about 250 liter/month/farmer.   Keywords: Milk Production, Cobb Douglass, Ownership Of Dairy Cow, Dairy Farmer
Downloads
Download data is not yet available.
References
Anindyasari, D., Agus. S dan M. Mukson. 2019. Analisis Hubungan Faktor-Faktor yang Mempengaruhi Pendapatan Peternak Sapi Perah Pada Koperasi Susu di Kabupaten Semarang. Jurnal Peternakan Lingkungan Tropis, 2 (1), 23 - 30.
Asmara, A., Purnamadewi, Y. L., dan Lubis, D. (2016). Keragaan Produksi Susu dan Efisiensi Usaha Peternakan Sapi Perah Rakyat di Indonesia. Jurnal Manajemen dan Agribisnis, 13(1), 14-25.
Dillon, J.L. 1977. The Analysis of Response in Crop and Livestock Production. 2nd. Pergamon Press. London.
Hernanto. 1979. Ilmu Usaha Tani. Bagian Agribisnis dan Koperasi. Departemen Ilmu-Ilmu Sosial Ekonomi Pertanian. Fakultas Pertanian. Institut Pertanian Bogor. Bogor.
Soekartawi. 1994. Teori Ekonomi Produksi dengan Pokok Bahasan Analisis Fungsi Produksi Cobb-Douglas. Rajawali Press. Jakarta.
Sudono, A. 1985. Produksi Sapi Perah. Fakultas Peternakan IPB. Bogor.
Syarifuddin. 2017. Hubungan Antara Jumlah Kepemilikan Ternak Sapi Perah Fries Holland dengan Produksi, Kualitas Air Susu, dan Body Condition Score. Skripsi. Fakultas Peternakan, Universitas Hasanudin, Makassar.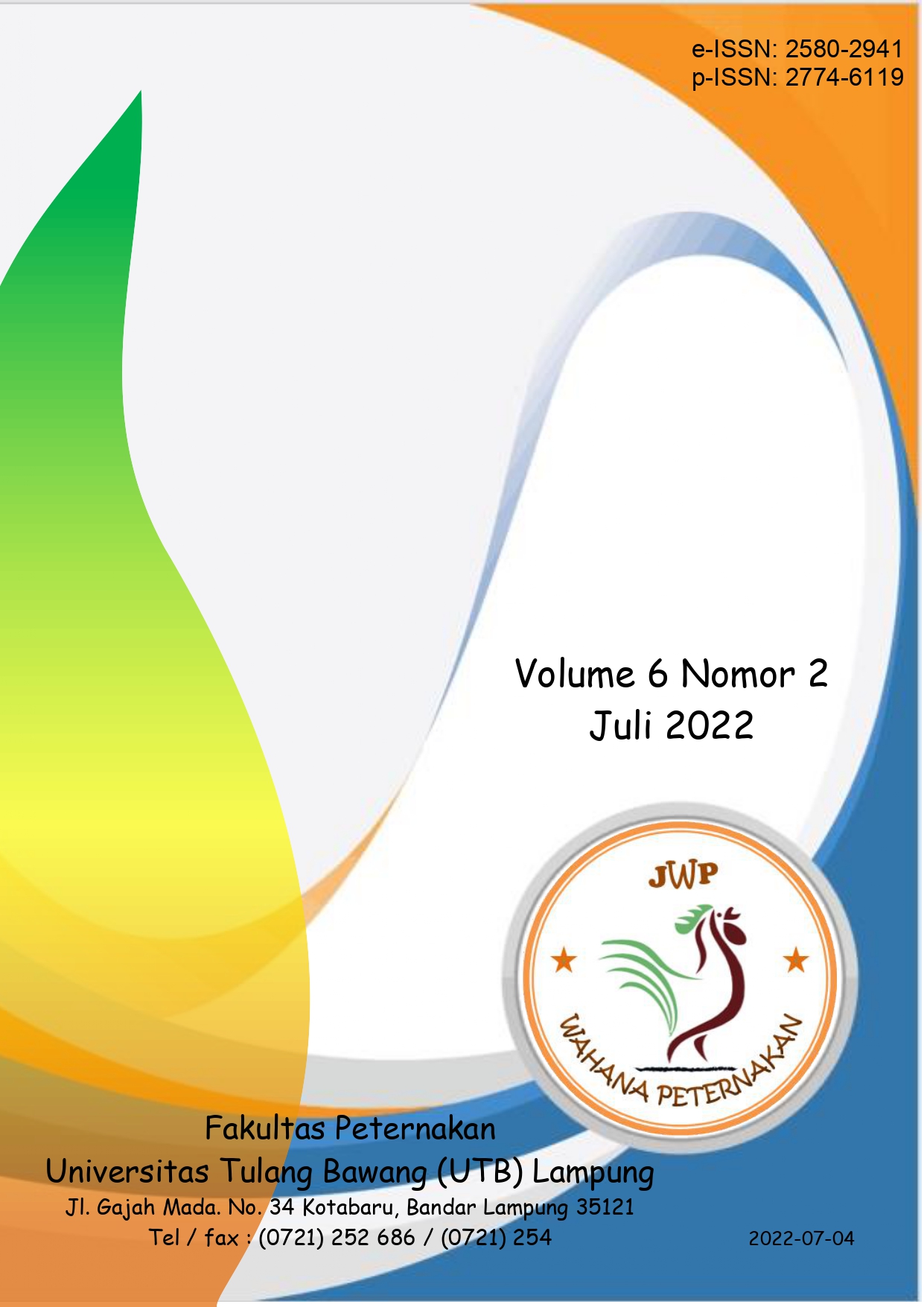 Downloads
How to Cite
Yuniawan, Y., and S. Samaiharuh. "Efisiensi Produksi Susu Sapi Perah Di Kelompok Peternak Mandiri Sejahtera Desa Tajurhalang Kabupaten Bogor". Wahana Peternakan, vol. 6, no. 2, July 2022, pp. 62-68, doi:10.37090/jwputb.v6i2.573.
License
Copyright (c) 2022 Samaiharuh Samaiharuh, Yuniawan Yuniawan
This work is licensed under a Creative Commons Attribution-ShareAlike 4.0 International License.