Pengaruh Imbangan Pennisetum purpureum cv.Mott dan Indigofera zolligeriana dalam Ransum terhadap Total VFA, NH3 dan Populasi Protozoa Rumen in vitro.
Abstract
This study aims to evaluate the level of Indigofera zollingeriana with Pennisetum purpureum cv. Mott  in ration on rumen fermentation characteristics (total VFA, NH3 and protozoa population) in vitro. The study used a completely randomized design (CRD), consisting of 5 treatments and 4 replications. P1 = 60% Pennisetum purpureum cv. Mott, P2 = 45% Pennisetum purpureum cv. Mott + 15% Indigofera zollingeriana, P3 = 30% Pennisetum purpureum cv. Mott + 30% Indigofera zollingeriana, P4 = 15% Pennisetum purpureum cv. Mott + 45% Indigofera zollingeriana, P5 = 60% Indigofera zollingeriana. All treatments received an additional 40% fine ricebran. The results showed that the level of Indigofera zollingeriana flour with Pennisetum purpureum cv. Mott had no significant effect on total VFA and NH3.  Total VFA and NH3 ranged from 131.65 mM-143.24 mM and 12.61 mM-13.74 mM, respectively. Meanwhile, the population of protozoa had a significant effect (P<0.05). DMRT further test results showed that P3 was significantly  (P<0.05) lower than P1, P2, P4 and P5. The average population of the protozoa ranged from 53.125 cells/ml to 90,625 cells/ml. Based on the results of the study, it can be concluded that the administration of Indigofera zollingeriana leaves by 30% was able to reduce the protozoan population in the rumen of FH cattle but had no significant effect on total VFA production and ammonia (NH3) concentration. Keywords: Rumen Fermentation Characteristics, Indigofera zollingeriana, In Vitro
Downloads
Download data is not yet available.
References
DAFTAR PUSTAKA
Abdullah, L., and Suharlina. 2010. Herbage yield and quality of two vegetative parts of Indigofera at different times of first regrowth defoliation. Media Peternakan, 33(1), 44–49.
Abdullah, L., A. Tarigan., D. Budhi., I. Jovintry., and T.A. Apdini. 2012. Indigofera zollingeriana : A Promising Forage and Shrubby Legume Crop for Indonesia. Proceeding of the 2nd International Seminar on Animal Industry/ Jakarta, 5(July 2012), 5–6.
Afzalani, R. Muthalib., R. Dianita., F. Hoesni., R. Raguati dan E. Musnandar. 2021. Evaluasi suplementasi Indigofera zollingeriana sebagai sumber green protein concentrate terhadap produksi gas metan, amonia dan sintesis protein mikroba rumen. Jurnal Ilmiah Universitas Batanghari Jambi, 21(3), 1455–1458.
Akbarillah, T., D. Kaharuddin dan Kususiyah. 2008. Kajian tepung daun Indigofera sebagai suplemen pakan terhadap produksi dan kualitas telur puyuh. Jurnal Peternakan Indonesia, 3(1), 20–23.
Cherthong, A., and M. Wanapat. 2013. Manipulation of in vitro ruminal fermentation and digestibility by dried rumen digesta. Livestock Science, 153(1–3), 94–100. https://doi.org/10.1016/j.livsci.2013.02.008
Dehority, B. A. 2004. Rumen Microbiology. Nottingham University Press. Nottingham.
Dehority, B. A., and P.A. Tirabasso. 2001. Effect of feeding frequency on bacterial and fungal concentrations, pH, and other parameters in the rumen. Journal of Animal Science, 79(11), 2908–2912. https://doi.org/10.2527/2001.79112908x
Hartadi, H. 1991. Tabel Komposisi Pakan untuk Indonesia. UGM Press.
Hartono, R., Y. Fenita dan E. Sulistyowati. 2016. Uji in vitro kecernaan bahan kering, bahan organik dan produksi N-NH3 pada kulit buah durian (Durio zibethinus) yang difermentasi jamur tiram putih (Pleurotus ostreatus) dengan perbedaan waktu inkubasi. Jurnal Sain Peternakan Indonesia, 10(2): 87–94. https://doi.org/10.31186/jspi.id.10.2.87-94
Haryanto, B. 1994. Respon produksi karkas domba terhadap strategi pemberian protein by-pass rumen. Jurnal Ilmiah Penelitian Ternak Klepu, 3(2): 49–55.
Herdiawan, I., dan R. Krisnan. 2014. Produktivitas dan pemanfaatan tanaman leguminosa pohon Indigofera zollingeriana pada lahan kering. Wartazoa, 24(2), 75–82.
Hidayah, N. 2016. Pemanfaatan senyawa metabolit sekunder tanaman (tanin dan saponin) dalam mengurangi emisi metan ternak ruminansia. Jurnal Sain Peternakan Indonesia, 11(2), 89–98.
Hu, W.-L., J.-X. Liu, J.-A. Ye, Y.-M.Wu, and Y.-Q. Guo. 2005. Effect of tea saponin on rumen fermentation in vitro. Animal Feed Science and Technology, 120(3-4), 333–339. doi:10.1016/j.anifeedsci.2005.02.02910.1016/j.anifeedsci.2005.02.029
Jayanegara, A., H.P.S. Makkar dan K. Becker. 2009. Emisi metana dan fermentasi rumen in vitro ransum hay yang mengandung tanin murni pada konsentrasi rendah. Media Peternakan, 32(3), 185–195.
Jayanegara, A. 2008. Reducing Methane Emissions from Livestock : Nutritional Approaches. Proceedings of Indonesian Students Scientific Meeting (ISSM), Institute for Science and Technology Studies (ISTECS) European.
Makkar, H.P.S. 2003. Effect and fate of tannins in ruminant animals, adaptation to tannins, and strategies to overcome detrimental effects of feeding tannin-rich feeds. Small Ruminant Research, 49(3): 241–256.
Mayasari, N., L.B. Salman., E.Y. Setyowati dan M.R. Ismiraj. 2018. Pembuatan ransum komplit dengan pemanfaatan Indigofera zollingeriana dan mineral anorganik: peningkatan kesehatan dan produktivitas sapi perah pada kelompok ternak sapi perah KSU Tandangsari, kecamatan Tanjungsari, kabupaten Sumedang. 2(4). http://journal.unpad.ac.id/pkm/article/view/19630/9635
McDonald, P., R. Edwards., J. Greenhalgh and C. Morgan. 2002. Animal Nutrition. 5th Edition. Longman Inc. London.
McMurphy, C.P., G. Duff, P. Cuneo and N.K. Chirase. 2011. Effects of supplementing humates on rumen fermentation in Holstein steers. South African Journal of Animal Science, 41(2), 134–140. https://doi.org/10.4314/sajas.v41i2.71017
Nurhayu, A., dan D. Pasambe. 2016. Indigofera sebagai substitusi hijauan pada pakan sapi potong di Kabupaten Bulukumba Sulawesi Selatan. Seminar Nasional Peternakan 2, 52–56.
Obrink, K.J. 1954. A Modified conway unit for microdiffusion analysis. Chem. Rev. 34 367-369.
Ogimoto, K, and S. Imai. 1981. Atlas of Rumen Microbiology. Japan Science Societes Press, Tokyo
Palupi, R., L. Abdullah, D.A. Astuti and Sumiati. 2015. Potential and utilization of Indigofera sp shoot leaf meal as soybean meal substitution in laying hen diets. Jurnal Ilmu Ternak dan Veteriner, 19(3): 210–219. https://doi.org/10.14334/jitv.v19i3.1084
Pen, B., K. Takaura., S. Yamaguchi., R. Asa and J. Takahashi. 2007. Effects of Yucca schidigera and Quillaja saponaria with or without β 1-4 galacto-oligosaccharides on ruminal fermentation, methane production and nitrogen utilization in sheep. Animal Feed Science and Technology, 138(1), 75–88. https://doi.org/10.1016/j.anifeedsci.2006.11.018
Purbowati, E., E. Rianto, W.S. Dilaga, C.M.S. Lestari and R. Adiwinarti. 2014. Karakteristik cairan rumen, jenis, dan jumlah mikrobia dalam rumen sapi Jawa dan peranakan Ongole. Buletin Peternakan, 38(1): 21–26.
Puspitaning, I. R. 2012. Populasi Protozoa dan Karakteristik Fermentasi Rumen dengan Pemberian Daun Kersen (Muntingia calabura) secara In Vitro. Skripsi Institut Pertanian Bogor.
Setiyatwan, H., E. Harlia dan D. Rusmana. 2018. Budidaya dan aplikasi teknologi pengolahan Duckweed (Lemna Sp.) sebagai pakan konsentrat serta penggunaannya untuk ternak itik di desa Sidomulyo dan desa Wonoharjo kecamatan Pangandaran kabupaten Pangandaran. Jurnal Pengabdian Kepada Masyarakat, 2(1), 1–5.
Steel, R., dan J. Torrie. 1993. Prinsip dan Prosedur Statistika suatu Pendekatan Biometrik. PT Gramedia Pustaka Umum.
Suharti, S., D.N. Aliyah dan Suryahadi. 2018. Karakteristik fermentasi rumen in vitro dengan penambahan sabun kalsium minyak nabati pada buffer yang berbeda. Jurnal Ilmu Nutrisi dan Teknologi Pakan, 16(3): 56–64.
Suharti, S., D.A. Astuti dan E. Wina. 2010. Kecernaan nutrien dan performa produksi sapi potong Peranakan Ongole (PO) yang diberi tepung lerak (Sapindus rarak) dalam ransum. Institut Pertanian Bogor. 14(3): 200–207.
Suryadi, T. 2018. Kualitas Nutrisi Rumput Odot (Pennisetum purpureum cv. Mott) dengan Pemberian Jenis Pupuk yang Berbeda. Skripsi. Universitas Bengkulu.
Thalib, A. 2008. Buah lerak mengurangi emisi gas metana pada hewan ruminansia. Warta Penelitian dan Pengembangan Pertanian, 30(2): 11–12. http://pustaka.litbang.pertanian.go.id/publikasi/wr302086.pd
Wahyuni, I. M. D., A. Muktiani dan M. Christianto. 2014. Penentuan dosis tanin dan saponin untuk defaunasi dan peningkatan fermentabilitas pakan. Jurnal Ilmu dan Teknologi Peternakan, 3(3): 133–140.
Wallace, R.J., L. Arthaud and C. J. Newbold. 1994. Influence of Yucca shidigera extract on ruminal ammonia concentrations and ruminal microorganisms. Applied and Environmental Microbiology, 60(6): 1762–1767.
Wang, J.K., J.A. Ye and J. X. Liu. 2011. Effects of tea saponins on rumen microbiota, rumen fermentation, methane production and growth performance-a review. Trop Anim Health Prod, 44(4), 697–706.
Yanuartono, Y., A. Nururrozi, S. Indarjulianto dan H. Purnamaningsih. 2019. Peran protozoa pada pencernaan ruminansia dan dampak terhadap lingkungan. Journal of Tropical Animal Production, 20(1): 16–28. https://doi.org/10.21776/ub.jtapro.2019.020.01.3
Zahera, R., D. Anggraeni, Z.A. Rahman dan D. Evvyernie. 2020. Pengaruh kandungan protein ransum yang berbeda terhadap kecernaan dan fermentabilitas rumen sapi perah secara in vitro. Jurnal Ilmu Nutrisi dan Teknologi Pakan, 18(1): 1–6.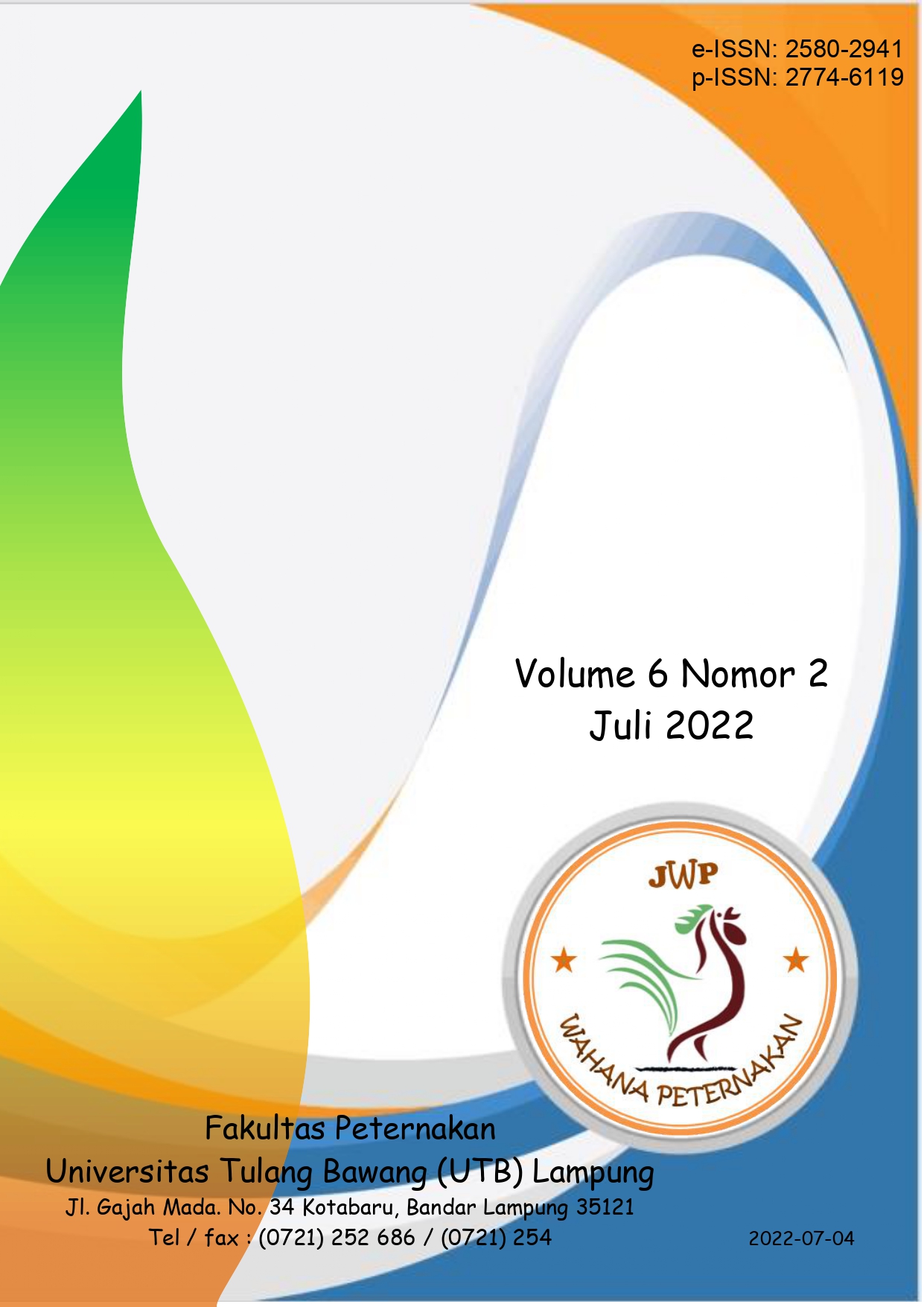 Downloads
How to Cite
Wulandari Barokah, S. ., irma badarina, and D. Dwatmadji. "Pengaruh Imbangan Pennisetum Purpureum cv.Mott Dan Indigofera Zolligeriana Dalam Ransum Terhadap Total VFA, NH3 Dan Populasi Protozoa Rumen in Vitro.". Wahana Peternakan, vol. 6, no. 2, July 2022, pp. 69-77, doi:10.37090/jwputb.v6i2.587.
License
Copyright (c) 2022 Siti Wulandari Barokah, irma badarina, Dwatmadji Dwatmadji
This work is licensed under a Creative Commons Attribution-ShareAlike 4.0 International License.