STUDI IN VITRO EKSTRAK DAUN TEMBAKAU (Nicotiana tabacum) DAN DAUN BINAHONG HIJAU (Anredera cordifolia steenis) SEBAGAI INSEKTISIDA ALAMI UNTUK MYIASIS PADA RUMINANSIA
Abstract
The purpose of this study was to determine the effectiveness of the combination of tobacco leaf extract (Nicotiana tabacum) and green binahong leaf (Anredera cordifolia steenis) against myiasis. The study used the in vitro method for testing, while the leaf extract was obtained using the immersion method. This research was conducted using a completely randomized design (CRD) with a one-way pattern (One Way ANNOVA) with 6 treatments and 4 replications. The test uses fresh beef samples that have been rotten for 6 days at room temperature. The fresh weight of each meat sample was 100 grams. The treatments were P0 (control: only water), P1 (100% tobacco), P2 (100% green binahong), P3 (50% tobacco: 50% green binahong), P4 (70% tobacco: 30 green binahong) and P5 (30% tobacco: 70% green binahong). The results observed in the study included the time (seconds) required for larvae to come out of the meat after spraying on each treatment, the death of myiasis larvae at 5, 10, 15, and 25 minutes. The results showed that treatment P4 got the best results. compared with other treatments with a significant difference at the level of p <0.05.
Key words: Tobacco leaves, Binahong leaves, Myiasis, Animal health.
References
Afifah, F., Rahayu, Y. S., and Faizah, U. 2015. Efektivitas Kombinasi Filtrat Daun Tembakau (Nicotiana tabacum) dan Filtrat Daun Paitan (Thitonia diversifolia) sebagai Pestisida Nabati Hama Walang Sangit (Leptocorisa oratorius) pada Tanaman Padi. LenteraBio Vol. 4 No. 1. 25–31.
Alka J, Padma K, Chitra J. 2012. Antifungal activity of flavonoids of Sida acuta Burm f. against Candida albicans. Int J Drug Dev Res. 2012; 4(3): 92-6.
Darsana, I. G. O., Besung, I. N. K., and Mahatmi, H. 2012. Potensi Daun Binahong (Anredera Cordifolia (Tenore) Steenis) dalam Menghambat Pertumbuhan Bakteri Escherichia Coli secara In Vitro. Indonesia Medicus Veterinus. 1(3) : 337 – 351 ISSN : 2301-7848.
Duangsri, P., Juntarapun, K., and Satirapipathkul, C. 2014. The Tabacco Leaf Extract And Antibacterial Activity In Textile. RMUTP International Conference: Textiles & Fashion 2012. 3-4. Bangkok Thailand.
Fransisca, Y. 2013. Isolasi, Identifikasi dan Uji Aktifitas Senyawa Alkaloid Daun Binahong (Anredera cordifolia (Tenore) Steenis. Chem Info. Vol 1, No 1, Hal 196 – 201.
Hall, M. J. R., Wall, R. L., and Stevens, J.R. 2016. Traumatic myiasis: A neglected disease in a changing world. Annu Rev Entomol. 61:159–176.
Khariroh, M. 2015. Pemanfaatan Air Rendaman Tembakau (Nicotiana tabbacum) Sebagai Larvasida Terhadap Larva Lalat Rumah (Musca domestica). Diploma thesis, Poltekkes Kemenkes Yogyakarta.
Listiyati, A. K., Nurkalis, U., Sudiyanti, and Hestiningsih, R. 2012. Ekstraksi Nikotin Dari Daun Tembakau (Nicotina Tabacum) Dan Pemanfaatannya Sebagai Insektisida Nabati Pembunuh Aedes Sp. Jurnal Ilmiah Mahasiswa. Vol. 2. No.2.
Miladiyah I, Prabowo BR. 2012. Ethanolic extract of Anredera Cordifolia Steenis Leaves Improved Wound Healing in Quinea Pigs. Universa Medicina 31(1): 4-10.
Mustika, A. A., Hadi, U. K., Wardhana, A. H., Rahminiwati, M., Wientarsih, I. 2016. The efficacy of larvasides of leaves of Yam Bean (Pachyrhizuserous) as botanical insecticides against fly; arvae myiasis Chrysomya bezziana. IOSR J Pharm. 6:78–81.
Paju, N., Yamlean, P. V. Y., Kojong, N. 2013. Uji Efektivitas Salep Ekstrak Daun Binahong (Anredera cordifolia (Ten.) Steenis) pada Kelinci (Oryctolagus cuniculus) yang Terinfeksi Bakteri Staphylococcus aureus. Jurnal Ilmiah Farmasi. 2(01):51-61.
Putri, R. H., Barid, I., and Kusumawardani, B. 2014. Stomatognatic (J. K. G Unej) Vol. 11 No.2. 27-31.
Selawa, W., Runtuwene, M. R. J., Citraningtyas, G. 2013. Kandungan Flavonoid Dan Kapasitas Antioksidan Total Ekstrak Etanol Daun Binahong Anredera cordifolia (Ten.) Steenis. Jurnal Ilmiah Farmasi. 2(01):18-22.
Sumartiningsih, S., 2011, The Effect of Binahong to Hematoma, Department Sport Science in Semarang State University, Semarang.
Taboy, Y. L. 2015). Pengaruh pemberian pestisida dari umbi gadung (Dioscorea hispida dennst.), daun nimba (Azadirachta indica A. Jus) dan daun tembakau (Nicotiana tabacum) terhadap hama dan penyakit tanaman cabai (Capsicum annuum). Skripsi thesis, Sanata Dharma University.
Wardhana, A. H., Abadi, I., Cameron, M.M., Ready, P.D., and Hall, M. J. R. 2018. Epidemiology of Traumatic Myiasis due to Chrysomya bezziana in Indonesia. JITV Vol. 23 No 1 : 45-60.
Wardhana, A. H, Diana, N. 2014. Biolarvacidal activity of methanol extract of Kipahit leaves (Tithonia diversifolia) against larvae of Chrysomya bezziana fly. JITV. 19:43–51.
Wardhana, A. H., Cecchic, G., Muharsinia. S., Camerond, M. M., Ready, P.D., Hall, M. J. R. 2014. Environmental and phylogeographical determinants of thedistribution of the Old World screwworm fly in Indonesia. Acta Tropica 138S. S62–S68.
Wientarsih, I., Mustika, A. A., Wardhana, A. H., Darmakusumah, D., dan Sutardi, L. N. 2017. Daun Binahong (Anredera cordifolia Steenis) Sebagai Alternatif Insektisida Terhadap Miasis yang Disebabkan Lalat Chrysomya bezziana. Jurnal Veteriner. Vol. 18 No. 1 : 121-127.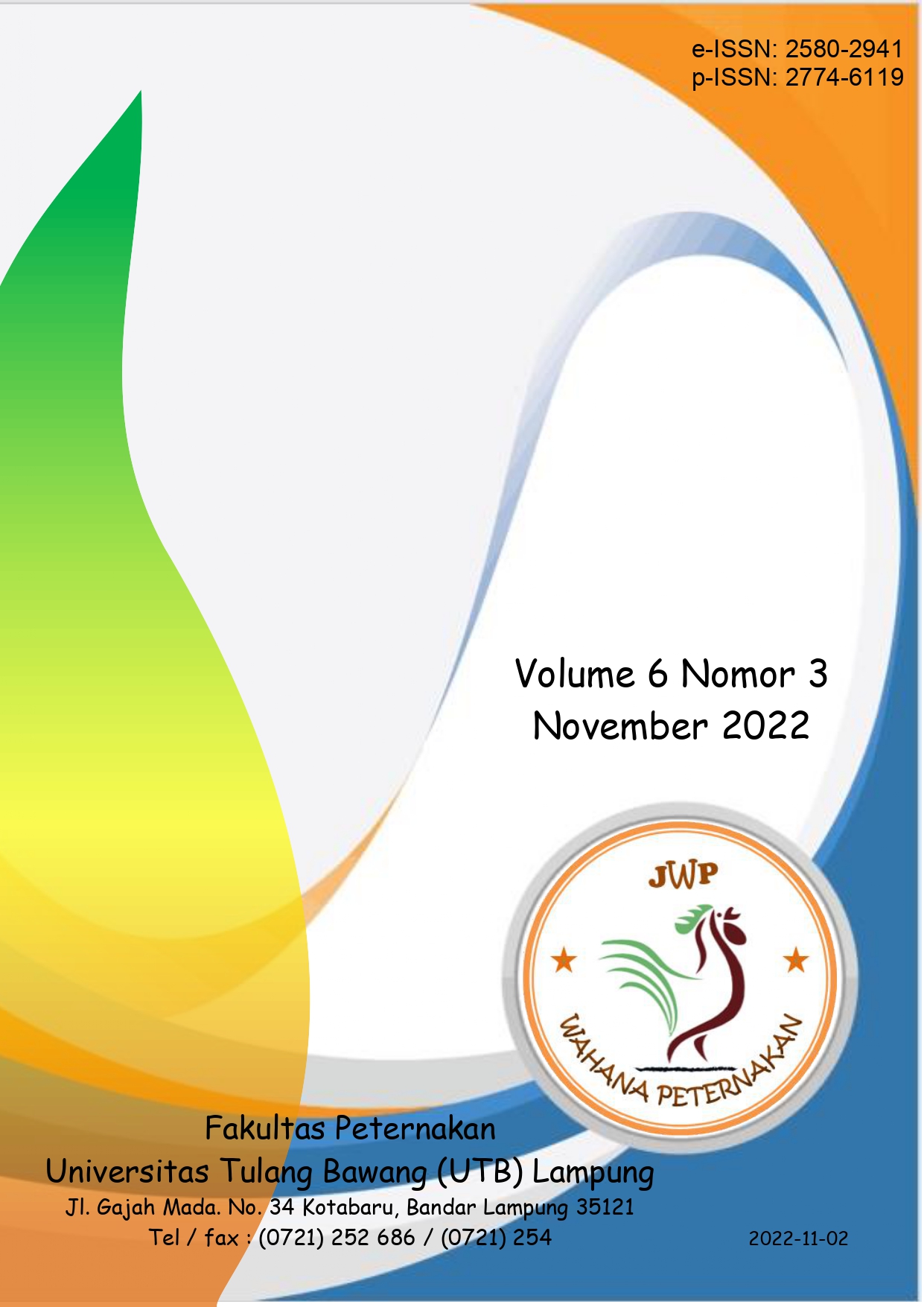 Downloads
How to Cite
Putra, T. D. ., N. Taufiq, H. N. Siswara, L. N. Aini, and K. Huda. "STUDI IN VITRO EKSTRAK DAUN TEMBAKAU (Nicotiana Tabacum) DAN DAUN BINAHONG HIJAU (Anredera Cordifolia Steenis) SEBAGAI INSEKTISIDA ALAMI UNTUK MYIASIS PADA RUMINANSIA". Wahana Peternakan, vol. 6, no. 3, Nov. 2022, pp. 144-9, doi:10.37090/jwputb.v6i3.608.
License
Copyright (c) 2022 Teguh Dwi Putra, Nur Taufiq, Hamzah Nata Siswara, Lia Nur Aini, Khoirul Huda
This work is licensed under a Creative Commons Attribution-ShareAlike 4.0 International License.