Potensi Kombinasi Maggot, Kunyit dan Indigofera Sebagai Antioksidan Alternatif Imbuhan Pakan
Abstract
Abstract
The purpose of this study is to find out how much antioxidant content combination maggot (Hermetia illucens), turmeric (Curcuma domestica) and Indigofera zollingeriana to be used as an alternative feed additive for poultry. This study used a complete randomized design with 6 treatments 3 replays using DPPH method with treatment P0 vitamin C (positive control), P1 (2,5% turmeric + 5% Indigofera + 25% larva BSF), P2 (2,5% turmeric+ 10% Indigofera + 20% larva BSF), P3 (2,5% turmeric + 15% Indigofera + 15% larva BSF), P4 (2,5% turmeric + 20% Indigofera + 10% larva BSF), P5 (2.5% turmeric + 25% Indigofera + 5% larva BSF). The observed parameters are antioxidant activity using orthogonal contrast tests and orthogonal polynomial tests. The results showed that the treatment had a very real effect (P<0.01) on antioxidant activity. Orthogonal contrast test results showed that the treatment of P0 (control) with the treatment of P1, P2, P3, P4 and P5 had a very noticeable effect (P<0.01) on antioxidant activity. Further tests of orthogonal polynomials showed that the highest antioxidant was in the P5 treatment (2,5% turmeric + 25% Indigofera + 5% larva BSF) 115.67%. It was concluded that a combination of  25% larva BSF (Hermetia illucens), 2,5% turmeric (Curcuma domestica) and 5% Indigofera zollingeriana can be used as an alternative feed additive source of antioxidants for poultry livestock.
Keywords: Antioxidants, larva BSF, turmeric, Indigofera zollingeriana.
References
Afnida, M. S. 2017. Penggunaan tepung pucuk indigofera zollingeriana sebagai pengganti bungkil kedelai dalam ransum dan pengaruhnya terhadap kesehatan ayam broiler. Jurnal Peternakan, 01(02): 17-22.
Afnida, M. S. 2018. Pengaruh substitusi protein tepung pucuk Indogofera zollingeriana dengan protein bungkil kedelai dalam ransum terhadap organ dalam broiler. Jurnal Peternakan, 2(2): 15-20.
Akbarillah T, Kususiyah, Hidayat. 2010. Pengaruh penggunaan daun indigofera segar sebagai suplemen pakan terhadap produksi dan warna yolk itik. JSPI. 5(1): 27-33.
Aldi, M., F. Farida., T. Syahrio, dan Erwanto. 2018. Pengaruh berbagai media tumbuh terhadap kandungan air, protein dan lemak maggot yang dihasilkansebagai pakan. Jurnal Riset dan Inovasi Peternakan, 2 (2):14-20.
Aliyu M. A., A.A. Abdullahi and A. Y. Ugya . 2017. Antioxidant properties of selected poaceae species in kano, northern Nigeria. Journal of Biomedical and Pharmaceutical Sciences, 4 (5) : 577-585.
Andrison, S. 2016. Uji Aktivitas Antioksidan dengan Metode DPPH (1,1- Diphenyl-2-Picrylhydrazyl) Ekstrak Bromelain Buah Nanas (Ananas comususus (L.) Merr). Skripsi. Universitas Sanata Dharma Yogyakarta.
Bikrisima, S. H. L., L. D. Mahfudz, dan N. Suthhama. 2013. Ketahanan tubuh ayam broiler pada kondisi tropis yang diberi jambu biji merah (Psidium guajava) sebagai sumber antioksidan. Agromedia, 31 (22): 46-57.
Chanwitheesuk, A., A. Teerawutgulrag, and N. Rakariyatham. 2005. Screening of antioxidant activity and antioxidant compounds of some edibles plants of Thailand. Food Chem, 92: 491-497
Fahmi, M. R., S. Hem, dan I. W. Subamia. 2007. Potensi maggot sebagai salah satu sumber protein pakan ikan. Dalam: Dukungan Teknologi untuk Meningkatkan Produk Pangan Hewan dalam Rangka Pemenuhan Gizi Masyarakat. Prosiding Seminar Nasional Hari Pangan Sedunia XXVII. Bogor (Indonesia): Puslitbangnak. hlm. 125-130.
Gaspersz, V. 1994. Experiment Design Method. Bandung : CV Armico.
Ginting, S. P., R. Krisnan, dan J. Sirait. 2010. The Utilization of Indigofera sp. as the sole foliage in goat diets supplemented with high carbohydrate or high protein concentrates. Indonesian Journal of Animal and Veterinary Sciences, 15 (4) : 261-268.
Green, R. J. 2004. Antioxidant Activity of Peanut Plant Tissues. Thesis. North Caroline State University: Department of Food Science, Raleigh.
Gurav, S., N. Deshkar, V. Gulkari, N. Duragkar., A. Patil. 2007. Free radical scavengeng activity of polygala chinensislinn. Pharmacologyline, 2 : 245-253.
Harborne, J. B. 1987. Metode Fitokimia: Penuntun Cara Modern Menganalisis Tumbuhan. Institut Teknologi Bandung. Bandung.
Hamid A. A., O. O. Aiyelaagbe., L. A. Usman., O. M. Ameen, and A. Lawal. 2010. Antioxidants : Its medicinal and pharmacological applications. African J. of Pure and Applied Chemistry. 4(8):142-51.
Jyoti, agrawal, S. S., S. Saxena., and A. Sharma. 2015. Phytoestrogen "genistein†: its extraction and isolation from soybean seeds. Journal Pharmacognosy and Phytochemical, 7 (6) : 1121-1126.
Kusbiantoro, D dan Y. Purwaningrum. 2018. Pemanfaatan kandungan metabolit sekunder pada tanaman kunyit dalam mendukung peningkatan pendapatan masyarakat. Jurnal Kultivasi, 17 (1) : 544-549.
Mushawwir, A., N. Suwarno, dan A. A. Yulianti. 2019. Profil malondialdehyde (MDA) dan kreatinin itik fase layer yang diberi minyakatsiri garlic dalam kondisi cekaman panas. Jurnal Ilmu dan Industri Peternakan, 5 (1): 1-11.
Newton, G. L., D. C. Sheppard., D. W. Watson., G. J. Burtle., C. R. Dove., J. K. Tomberlin, dan E. E. Thelen. 2005. The black soldier fly (Hermetia illucens) as a manure management resource recovery tool. In Proceedings of the Symposium on the State of the Science of Animal Manure and Waste Management. San Antonio.
Paik, I.K. 2001. Application of chelated minerals in animal production. Asian-Aust. J. Anim. Sci. 14: 191 – 198.
Palupi, R., L. Abdullah., D. A. Astuti, dan Sumiati. 2014. Potential and utilization of Indigofera sp. shoot leaf meal as soybean meal substitution in laying hen diets. JITV, 19 (3): 210-219.
Palupi, R., M. Verawaty., F. N. L. Lubis, dan N. Oktarinah. 2020. Total lactic acid bacteria, phenolic compounds and antioxidant activities of pineapple waste and Indigofera zollingerianaleaves by liquid fermentation. Jurnal Ilmu Peternakan, 30 (1): 1-9.
Purwanti, S., L. Agustina., A. Siswoyo, dan I. Ahmadi. 2020. Performance and charateristics of digestive tract organs given Indigofera zollingeriana leaf meal and turmeric (Curcuma domestica) on Japanese quail. IOP conf. Series: Earth and Enviromental Science 492 (2020).
Putra, B. A. A., N. W. Bogoriani., N. P. Diantariani, dan N. L. U. Sumadewi. 2014. Ekstraksi zat warna alam dari bonggol tanaman pisang (Musa paradiasciaca l.) dengan metode maserasi, refluks, dan sokletasi. Jurnal Kimia, 8 (1): 113-119.
Rahayu, H. D. I. 2010. Pengaruh Pelarut yang Digunakan Terhadap Optimasi Ekstraksi Kurkumin Pada Kunyit (Curcuma domestica Vahl). Skripsi. Universitas Muhammadiyah Surakarta.
Rahmah, S. 2014. Uji Antioksidan Tanaman Kasumba Turate (Cartamus tinctorius Linn.) Sebagai Alternatif Feed Additive Untuk Unggas. Skripsi. Fakultas Peternakan Universitas Hasanuddin Makassar.
Rosita, M., M. Da'I, dan R. T. Rahmi. 2011. Uji aktivitas penangkap radikal bebas dan penetapan kadar fenolik total ekstrak etanol tiga rimpang genus Curcuma dan rimpang temu kunci (Boesen bergia pandurata). Jurnal Pharmacon, 12 (1) : 40-43.
Salamah, N dan Erlinda, W. 2015. Aktivitas antioksidan ekstrak metanol daun kelengkeng (Euphoria longan (L) steud.) dengan metode penangkapan radikal 2,2'-Difenil-1-Pikrilhidrazil. Jurnal Pharmaciana, 5 (1) : 25-34.
Soepri, O. 2019. Manfaat Indigofera SP dibidang Reproduksi Ternak. Undip Press Semarang. Semarang. Hal 1-2.
Suprapto, D., S. Purwanti, dan L. Agustina. 2020. Provision of Indigofera zollingeriana and turmeric (Curcuma domestica) in quail rations on in vitro value of dry matter and protein digestibility. IOP conf. Series: Earth and Enviromental Science 492 (2020)
Suresh, D., H. Manjunatha, dan K. Srinivasan. 2005. Effect of heat processing of spices on the concentrations of their bioactive principles: Turmeric (Curcuma longa), red pepper (Capsicum annuum) and black pepper (Pipernigrum). Department of Biochemistry and Nutrition, Central Food Technological Research Institute, Mysore, India.
Syarifuddin, E., H. Abbas., E. Purwati, dan Y. Heryandi. 2012. Aplikasi mengkudu sebagai sumber antioksidan untuk mengatasi stress ayam broiler di daerah tropis. Jurnal Peternakan Indonesia, 14 (3): 411-424.
Tarigan, A dan S. P. Ginting. 2011. Pengaruh taraf pemberian Indigofera sp.terhadap konsumsi dan kecernaan pakan serta pertambahan bobot hidup kambing yang diberi rumputbrachiaria ruziziensis. JITV 16 (1): 25-32.
Wahdaningsih, S., E.P. Setyowati, dan S. Wahyuono. 2011. Aktivitas penangkap radikal bebas dari batang pakis (Alsophila glauca j. sm). Majalah Obat Tradisional. 16(3): 156-160.
Wientarsih, I., S. D. Widhyari, dan T. Aryanti. 2013. Kombinasi imbuhan herbal kunyit dan zink dalam pakan sebagai alternatif pengobatan kolibasilosispada ayam pedaging. Jurnal Veteriner, 14 (3): 327-334.
Winarti, S. 2010. Makanan Fungsional. Graha Ilmu.Yogyakarta. Hal 70.
Winarsi, H. 2007. Antioksidan Alami dan Radikal Bebas Potensi dan Aplikasinya Dalam Kesehatan. Yogyakarta. Kanisius.
Wuisan, C. 2007. Penentuan Aktivitas Antioksidan Rimpang Segar dan Rimpang Bubuk dengan Uji Kadar Polifenol dan Active Oxygen Method (AOM). Skripsi. Universitas Pertanian Bogor Fakultas Teknologi pangan.
Zulkarnain, D. 2008. Pengaruh suplementasi tepung kunyit (Curcuma domestica val) sebagai bahan antioksidan dalam ransum terhadap performan ayam broiler. Agriplus, 18 (3): 235-243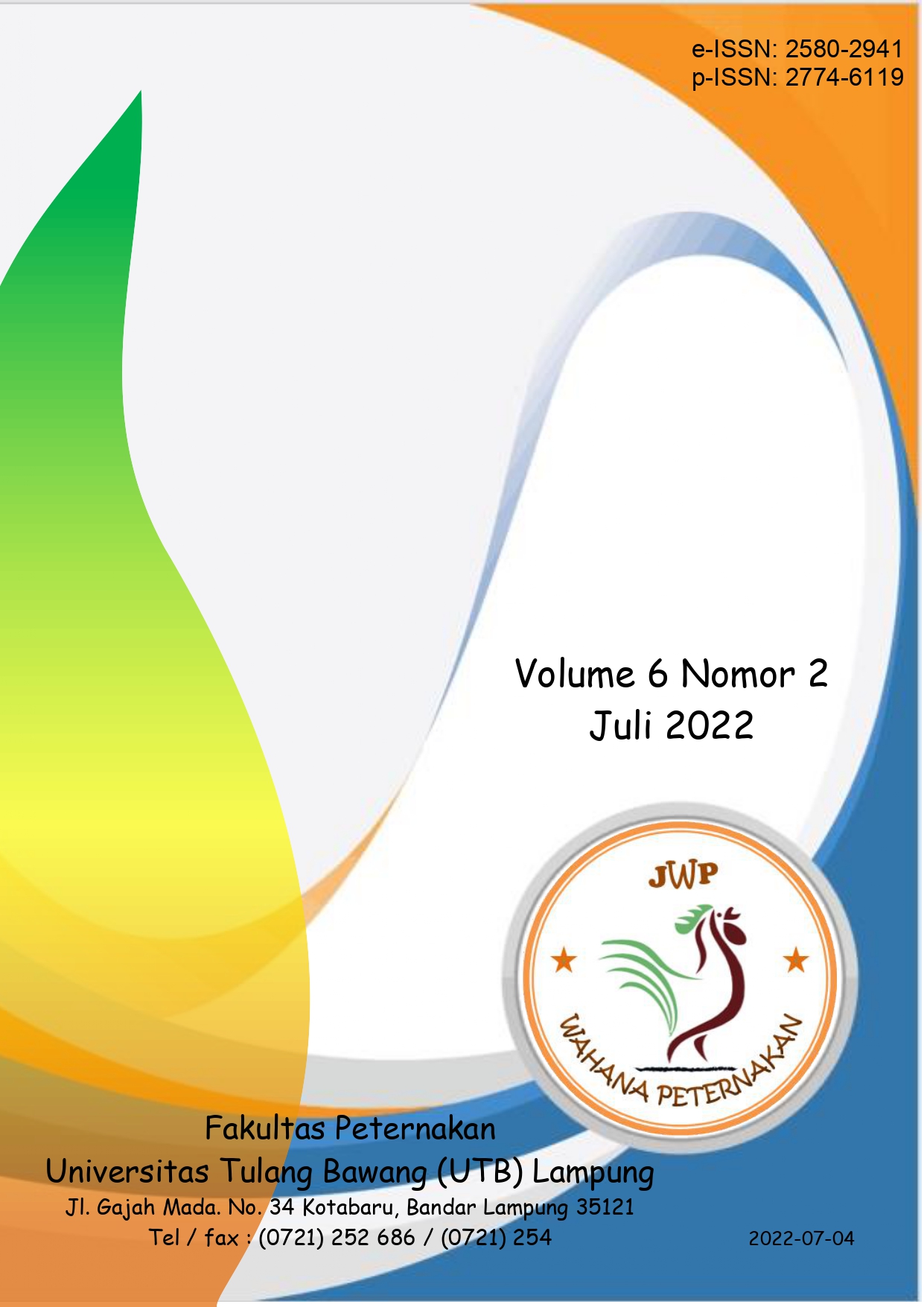 Downloads
Published
04-07-2022 — Updated on 06-07-2022
How to Cite
Purwanti, S., N. Nurhasmiati, N. . Lahay, and J. A. Syamsu. "Potensi Kombinasi Maggot, Kunyit Dan Indigofera Sebagai Antioksidan Alternatif Imbuhan Pakan". 2022. Wahana Peternakan, vol. 6, no. 2, July 2022, pp. 113-2, doi:10.37090/jwputb.v6i2.616.
License
Copyright (c) 2022 Sri Purwanti, Nurhasmiati Nurhasmiati, Nancy Lahay, Jasmal A. Syamsu
This work is licensed under a Creative Commons Attribution-ShareAlike 4.0 International License.