PENGARUH PENAMBAHAN AIR REBUSAN KULIT JENGKOL (archidendron pauciflorum) KEDALAM AIR MINUM TERHADAP PERFORMA KARKAS BROILER
Abstract
This study aims to determine the use of boiled water of jengkol (Archidendron pauciflorum) peel in drinking water on broiler carcass performance. The study used 96 DOC broilers of the type MB 202 PLATINUM with a study duration of 4 weeks. The research method used is an experimental method using a completely randomized design (CRD) with 6 treatments, namely P0: Control (Drinking water without boiled jengkol peel waste), P1: 2% (2ml jengkol peel decoction/100ml drinking water), P2: 4 % (4 ml of boiled jengkol peel/100 ml of drinking water), P3: 6% (6 ml of boiled jengkol peel/100 ml of drinking water), P4: 8% (8 ml of boiled jengkol peel/100 ml of drinking water), P5: 10% (10 ml of boiled peel) jengkol/100 ml of drinking water) then each treatment was repeated 4 times. The parameters measured were: live weight (g/head), carcass weight (g/head), and abdominal fat weight (g/head). The results of the analysis of diversity showed that the administration of boiled water jengkol peel  in drinking water had a significant effect (P<0.05) on carcass weight and abdominal fat weight, and was only able to maintain the same live weight as the control. Based on the results of the study, it can be concluded that the best treatment of jengkol peel boiled water in drinking water is P4 8% treatment (8ml jengkol peel stew/100ml drinking water) with the acquisition of live weight 1089.50 g/head, carcass weight 883.50 g/head, and abdominal fat 9.98 g/head. Keywords: Broiler, Carcass Quality, Jengkol Peel Decoction
Downloads
Download data is not yet available.
References
Anwar, P., Jiyanto dan M. A. Santi. 2019. Persentase Karkas, Bagian Karkas Dan Lemak Abdominal Broiler Dengan Suplementasi Andaliman (Zanthoxylum acanthopodium DC) di Dalam Ransum
Chávez-Santoscoy, R.A., J.A. Gutiérrez-Uribe dan S.O. Serna-Saldívar. 2013. Effect of flavonoids and saponins extracted from black bean (Phaseolus vulgaris L.) seed coats as cholesterol micelle disruptors. Plant foods for human nutrition. 68 (4):416- 423.
Juariah, S., dan S. Oktaviyani. 2016. The Activity Test Of Ethanol Extract Jengkol Skin (Pithecellobium Jiringa) To Inhibit Of Fungus Growth Candida Albicans. Prosiding Celscitech-UMRI . Vol 1 ISSN: 2541-3023
Massolo, R., A. Mujnisa, L. Agustina. 2016. Persentase Karkas Dan Lemak Abdominal Broiler Yang Diberi Prebiotik Inulin Umbi Bunga Dahlia (Dahlia variabillis). Buletin Nutrisi dan makanan Ternak 12(2) : 50- 58.
National Research Council. 1994. Nutrient Requirements of Poultry. 9th resived edition. National Academic Press, Wasington, DC.
Rajab, W. M. H. 2019. Bobot Potong, Karkas, Giblet Dan Lemak Abdominal Ayam Broiler Yang Diberi Gula Merah Dan Kunyit Dalam Air Minum Sebagai Feed Additive. Agrinimal, Vol. 7, No. 2, Hal. 53-58
Risnajati, D. 2012. Perbandingan Bobot Akhir, Bobot Karkas dan Persentase Karkas Berbagai Strain Broiler. Sains Peternakan. Vol. 10 (1) : 11-14 : ISSN 1693-8828.
Vinarova, L., Z. Vinarov, V. Atanasov, I. Pantcheva, S. Tcholakova, N. Denkova, & S. Stoyanov. 2015. Lowering of cholesterol bioaccessibility and serum concentrations by saponins: in vitro and in vivo studies. Food Funct. 6: 501–512.
Yuniastuti, A., 2002. Efek pakan berserat pada ransum ayam terhadap kadar lemak dan kolesterol daging broiler. JITV, 9 (3) : 175 - 183.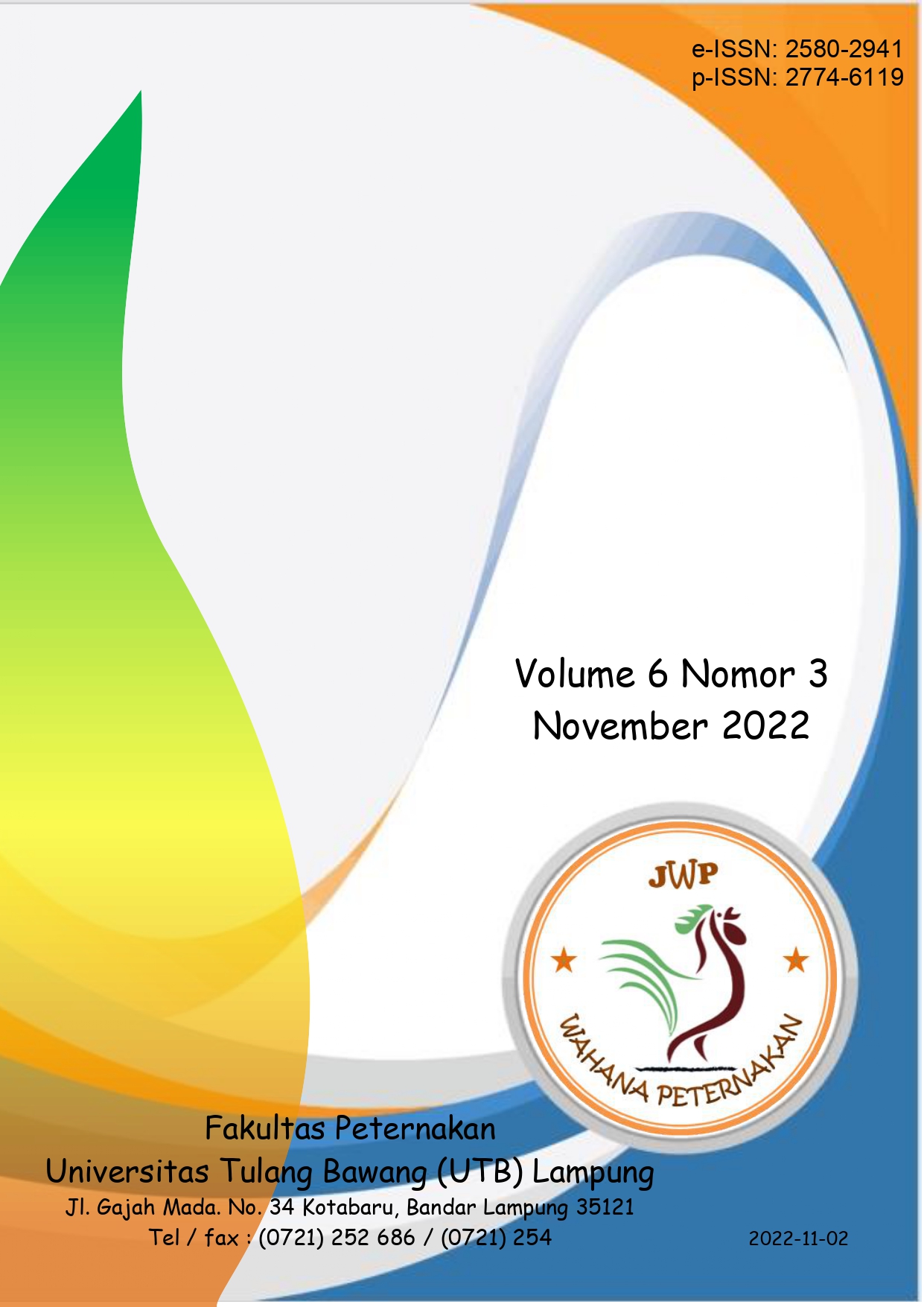 Downloads
How to Cite
Dwi Agustina, S., S. Sadjadi, and R. . Novita. "PENGARUH PENAMBAHAN AIR REBUSAN KULIT JENGKOL (archidendron Pauciflorum) KEDALAM AIR MINUM TERHADAP PERFORMA KARKAS BROILER". Wahana Peternakan, vol. 6, no. 3, Nov. 2022, pp. 191-6, doi:10.37090/jwputb.v6i3.689.
License
Copyright (c) 2022 Syintia Dwi Agustina, Sadjadi Sadjadi, Ririn Novita
This work is licensed under a Creative Commons Attribution-ShareAlike 4.0 International License.