FREKUENSI PEMUTARAN TELUR UNTUK MENINGKATKAN DAYA TETAS, FERTILITAS, MORTALITAS TELUR PUYUH (coturnix coturnix japonica)
Abstract
One of the influencing factors in hatching is egg screening. This study aims to determine the frequency of egg turning to increase hatchability, fertility, and mortality of quail eggs. Completely randomized design (CRD) is the design used in this study and the experiment in the study which consisted of 4 treatments and 5 replications. The treatments of this study were: 1 screening/day for each replication (p0), 2 screenings/day for each replication (p1), 3 screenings/day for each replication (p2), 4 screenings/day for each replication (p3). From the results of this study, it was concluded that the frequency of three rotations per day on quail eggs showed the highest percentage yield at 100% hatchability, while the highest percentage of fertility was 84%, and the lowest percentage of mortality was 19%.
Keywords: Turning eggs, hatchability, fertility, mortality
References
Atik, Rusmiati dan Tetty. 2015. Aneka Masakan Telur. Agromedia Pustaka. Jakarta
Daulay, A. H., S. Aris, dan A. Salim. 2008. Pengaruh umur dan frekuensi pemutaran terhadap daya tetas dan mortalitas telur ayam Arab (Gallus turticus). Jurnal AgribisnisPeternakan 1: 6-10.Bakst, M. R. (1993). Future Developments In Artificial Insemination Technology. Applied Poultry Science, 373–377. https://doi.org/10.1093/japr/2.4.373
Jecqueline C. M. Eoudia, Lucia J. Lambey, Josephine L. p. Saerang, Fredy J. Nangoy. 2019. Pengaruh Frekuensi Pemutaran dan Posisi Telur pada Keberhasilan Penetasan Telur Ayam Kampung (Gallus gallus Domesticus). Fakultas Peternakan Universitas Sam Ratulangi Manado.Sulawesi Utara.
King'Ori AM. Review of the factors that influence egg fertility and hatchability in poultry. Int J. Poult. Sci. 2011;10(6):483–492.
Lukman, Bahri Syamsuryadi dan Iin Mutmainna. 2020. Frekuensi Pemutaran Telur Terhadap Nilai Mortalitas, Daya Tetas dan Bobot Tetas Telur Puyuh. Program Studi Peternakan Sekolah Tinggi Ilmu Pertanian Muhammadiyah Sinjai.
Nuryati, T. 2009. Sukses Menetaskan Telur. Penebar Swadaya . Jakarta.
Suryo A, Antonius A.K, Titiek S, Syahri M. 2019. Pengaturan Tingkat Suhu Dan Kelembaban Pada Mesin Penetas Telur Burung Puyuh. Institut Teknologi Adhi Tama, Surabaya.
Tona K, Onagbesan O, Bruggeman V, Mertens K, Decuypere E. Effects of turning duration during incubation on embryo growth, utilization of albumen, and stress regulation. J. Poult. Sci. 2005;84(2):315–320.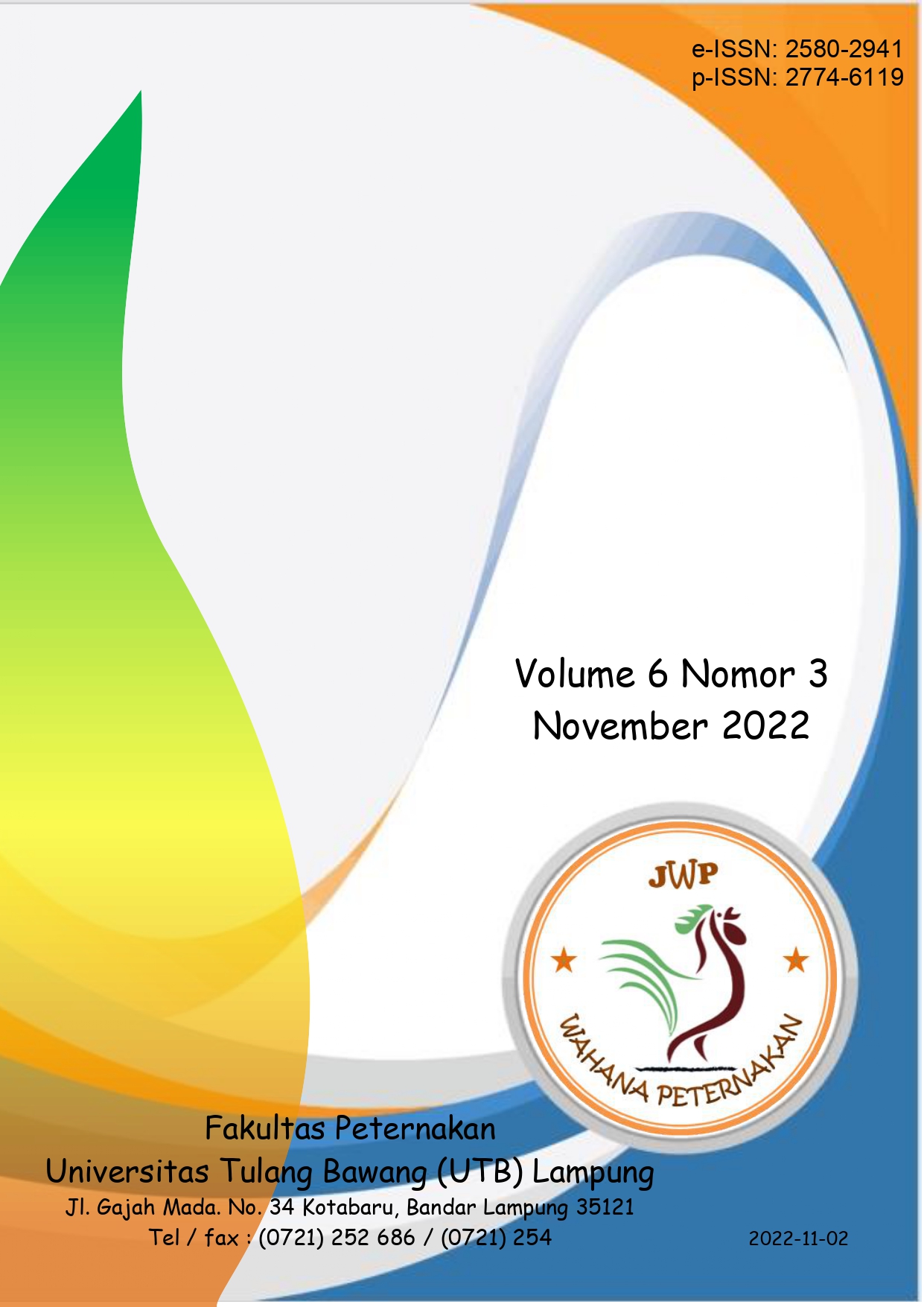 Downloads
How to Cite
suhadi, miki, R. Herdiansah, and N. Eka Wati. "FREKUENSI PEMUTARAN TELUR UNTUK MENINGKATKAN DAYA TETAS, FERTILITAS, MORTALITAS TELUR PUYUH (coturnix Coturnix Japonica)". Wahana Peternakan, vol. 6, no. 3, Nov. 2022, pp. 197-00, doi:10.37090/jwputb.v6i3.711.
License
Copyright (c) 2022 miki suhadi, Riko Herdiansah, Novi Eka Wati
This work is licensed under a Creative Commons Attribution-ShareAlike 4.0 International License.